One wonders about the veracity, or authenticity, of purported UFO sighting videos. I tend to think that the comments made by witnesses are usually telling… these guys, obviously not UFO people, nonetheless do point out that a helicopter shows up and circles near one of the stationary objects. Although they note that the helicopter is military, it's impossible to tell by watching the footage.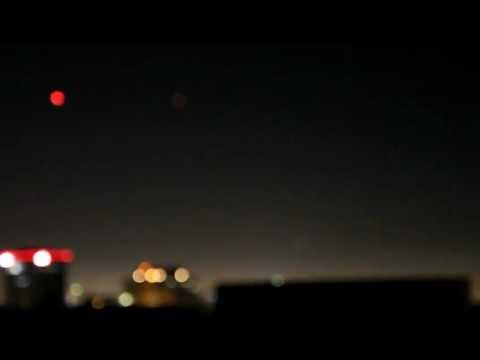 "That orb of energy is still chillin'." "That one right there is like a gangster…"
The second video finds the guys exclaiming that the main object shot off or disappeared, although at the time, the camera is pointed at one of them, checking the day's date on his iPhone, and then relates a story that "he knew" something was going to happen, as an inordinately large murder of crows had gathered on a nearby roof… and then flew off in formation.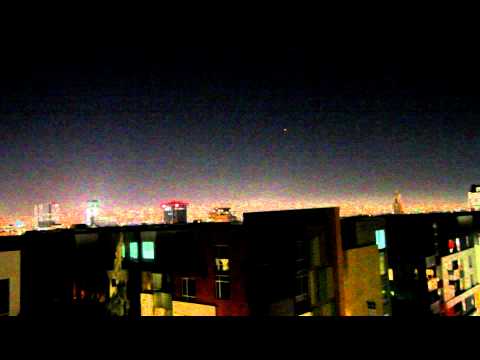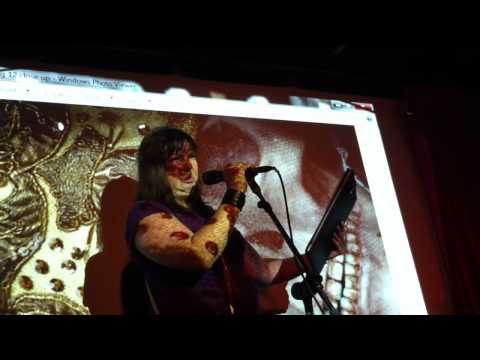 Last Wednesday, I presented a rather embryonic concept for a friend's event, "Ghost Night," wherein I railed against the exploitation of the spirit world by the seemingly endless stream of bad ghost hunting reality teevee shows. I find these shows in general, to be crass, distasteful and downright disrespectful. The fact that they have inspired the creation of literally thousands of amateur ghost hunting groups around the country, most of which do not use mediums, logic or decency–and have no regard for the state within which these spirits languish–makes it all worse. I see them as nothing more than tailgating parties with the dead.
In the greater Los Angeles area alone, one recent count found 1,157 active paranormal groups. I have it one good authority that there are a handful of legitimate, sensitive and thoughtful investigative organizations; if you are in need of such help, may I suggest contacting California Paranormal Private Investigations, Los Angeles Paranormal Association, 3am Paranormal and NOPS (North Orange County Paranormal). I am also in touch with a local (and non-denominational) demonologist.
I plan on expanding this concept and presenting it again soon… I am in the process of drafting a real Ghosts' Bill of Rights… and to that end, suggestions and insights would be appreciated.
There just may be some additional Fortean happenings coming up soon… Let's hope this ends well.
Presenting unto you this… from Yahoo! News, via our friend Tim Cridland / Zamora TK…
by Eric Pfeiffer | The Sideshow – Wed, May 16, 2012 Read it at this story's Source
Would you want your grandma living in an abandoned hospital so well known for its creepy atmosphere and alleged hauntings that it has been used in various Hollywood productions by folks like Rob Zombie and the makers of the horror film "Se7en?"
The L.A. Times says the 107-year-old Linda Vista Community Hospital may soon earn a new reputation once a proposed $40 million conversion is complete, transforming the abandoned building into a senior living home.
"People tell me it's the most haunted place in L.A.," said Maurice Ramirez, executive vice president of Amcal Multi-Housing Inc., the affordable housing group heading the hospital's conversion. "Because it's been empty for maybe 25 years or so, it becomes the subject of a little urban folklore about ghosts and things."
The hospital's caretaker Francis Kortekaas says he has experienced a few unusual moments over the years since Linda Vista closed shop in 1991, including when a sink seemed to turn itself on and off in front of his eyes, and when he felt a child's hand reach out for his own, even though he was alone at the time.
"It felt like my daughter's hand," he told the paper.
Kortekaas has made some unusual changes to the site, including adding a fake prison cell, to make it more accommodating to potential filmmakers. Over the years, the property has been used by several entertainment productions, including the musicians Duran Duran, and as a set for the TV shows "True Blood" and "ER."
Kortekaas says filming takes place at the hospital for nearly 130 days a year.
Perhaps most terrifying of all, the hospital has also been home to shooting locations for the critically panned films "Pearl Harbor" and the 2005 Adam Sandler remake of "The Longest Yard."
But that dark legacy will have a shot at redemption once the extensive renovations are complete.
"It's going to look like an upscale hotel," Ramirez said. "People in the neighborhood will really see a transformation."
###
Well, once again, let us hope that the transformation is… um… complete. Yeah… complete… that's it!
Ha!
Peace.
San Diego County Fair – Del Mar, California
Fun's from Friday, June 8 to the 4th of July, except on all Mondays but July 2nd.
UFOs!… Yippee!
The 2012 Fair will truly be Out Of This World!
Join us as we explore outer space — the wonder of the universe and our efforts to explore it, as well as the fun and imaginative world of science fiction and visitors from other planets!
Click here for the website, it's pretty slick.
I devoured Mr. David's books, Eye of the Phoenix: Mysterious Visions and Secrets of the American Southwest and The Orion Zone: Ancient Star Cities of the American Southwest. He resides in Arizona and I am thanking my proverbial stars that he's coming to Los Angeles to speak at MUFON Los Angeles.

"After being intrigued by the Four Corners region of the United States for nearly fifteen years, Gary David moved to Arizona in 1994 and began an intensive study of the ancestral Pueblo People and their descendants, the Hopi. Join Arizona author and independent investigator Gary A. David as we explore Native American cosmology and prophecy traditions that might be able to tell us something important about Earth changes that may be coming our way.
Orion dominates the winter sky, flanked by Taurus the Bull on one side and Canis the Great Dog on the other–three key constellations for the Hopi and prehistoric Pueblo Peoples of the American Southwest. When these stars appear in the entryway to the kiva roof, they synchronize the sacred rituals being performed below. Here we see how a complex ceremonial cycle mirrors the turning of the heavens.
Gary A. David has travelled extensively throughout the Desert Southwest, studying the archaeological ruins and the rock art of the Anasazi and the culture of their descendants, the Hopi. David is familiar with fascinating and little-known facts about the Hopi, one of the most mysterious and secretive tribes on the North American continent. Gary will be discussing how a group of ancestral Hopi stone villages was constructed over a period of centuries in a pattern that mirrors the shape of the star constellation Orion. He will talk about Hopi kachinas, various cryptozoological creatures of Hopi legend such as the Ant People, the Hopi underworld god who resembles an ET Grey, Hopi "flying shields," and rock carvings depicting "star elders" and their craft. You will come away with a deep appreciation of how the Ancient Ones viewed the world above."
Hopefully I don't need to explain the horrors of GMOs (genetically modified organisms), and their main evil creators over at Monsanto (who we can also thank for Agent Orange, DDT, bovine growth hormone, and 2/3s of the produces you're probably consuming. MMM… corn spliced with mosquito DNA!) Obama appointed the VP of Monsanto as head of food safety czar, and you should be pissed. Tell him here:
http://signon.org/sign/tell-obama-to-cease-fda.fb1?source=s.fb&r_by=2088935
If you have an upcoming event which you'd like sent out to 300+ of Los Angeles' most interesting and discerning individuals, drop me a line: Skylaire@gmail.com.
–
Friday night marked the first of a new lecture series by Dr. Hoeller: Depth Psychology and the Esoteric Tradition, wherein he will "trace the major features of the tradition of inner wisdom in relation to their new articulation in psychology terms by C. G. Jung. Future Friday topics include "Hermetic Wisdom and the Teachings of C. G. Jung," "Jung as Reviver of the Gnostic Tradition" and "Jung and the Alternative Mysticism of the West." Find the entire schedule here: http://gnosis.org/gnostsoc/
My computer wouldn't let me post yesterday, so I apologize I didn't get a mention of the amazing documentary, Into the Zone: The Story of the Cacophony Society, a prankster-arts group yours truly was involved with when she was underage (and therefore, not able to incur felony convictions). So many old (old) faces at the screening last night, but I had to run to meet Haskel Wexler. The art exhibit runs through April 15:
The Cacophony Society Zone Show: You May Already be a Member
Exhibition at Grand Central Art Center
125 North Broadway, Santa Ana, CA 92701
http://www.grandcentralartcenter.com/ArtGallery_gcartgallery.php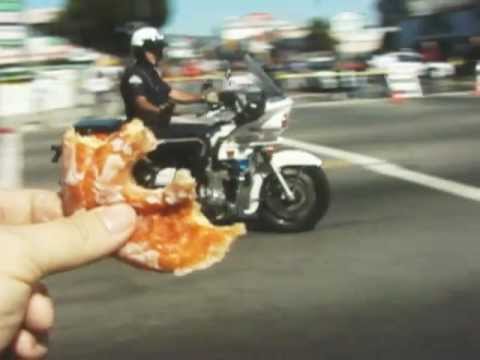 Here's why I left in such haste:
Waugh's Angeles
By Skylaire Alfvegren
Released on Oct. 11, 1965, The Loved One was promoted as "the motion picture with something to offend everyone." Refined English writer Evelyn Waugh made a temporary move to "a little town called Los Angeles," resulting in his satirical novel on which Terry Southern and Christopher Isherwood based their script. The Loved One was said to be unfilmmable, and no less a director than Luis Buñuel threw up his hands before Tony Richardson managed to tell the twisted tale of Dennis, a wide-eyed English poet (Robert Morse) who arrives in Los Angeles to visit with his old Hollywood uncle (John Gielgud). Unceremoniously let go from the studio to which he's dedicated his life, the uncle promptly commits suicide, forcing the boy into a number of horrifically funny situations as well as a romantic entanglement with naive mortuary cosmetologist Aimee Thanatogenos (Anjanette Comer). Jonathan Winters plays dual roles as a studio flunky and Rev. Wilbur Glenworthy, calculating owner of Aimee's place of work (loosely based on Forest Lawn). The Loved One also features a completely deranged Rod Steiger as head embalmer Mr. Joyboy, Paul Williams as a boy genius and Liberace as a coffin salesman, as well as cameos from the likes of Milton Berle and Chick Hearn. The darkest of black comedies, it is a litmus test, very rarely screened, and we dare not give away any more of the plot lest we scare anyone away. This American Cinematheque screening is a demented dream come true, with a moderated discussion featuring Winters, Morse and cinematographer Haskell Wexler following the film. (I filmed the 40 minutes Q&A, after which the entire audience sang Happy Birthday to Mr. Wexler, who was about to turn 90, and was most responsible for the film being made.
Sunday, February 5
The Pentagon Papers @ the Santa Monica Playhouse/the Other Space. (Presented in association with Vietnam Veterans of America.) The World Premiere of J-Powers's Pentagon Papers in the 40th anniversary year of the Watergate break-in. For the first time on stage, the hidden history of the Vietnam War that destroyed more than one president is dramatized. President Richard Nixon referred to the Watergate break-in which eventually lead to his resignation as 'silly' and 'incredible' in grand jury transcripts made public in November 2011. Powers's new play Pentagon Papers presents key passages from the recently declassified Pentagon Papers revealing the shocking secrets that led him to create a team of Watergate burglars and eventually to the self-destruction of his presidency. Unlike previous works on the subject that explore the courtroom effort regarding the right to publish, Pentagon Papers dramatizes the actual secret history of America's involvement in Vietnam. Performed by a cast of young actors, the production aims to inspire a new generation of Americans to demand honesty and transparency from leaders.  "The truth will set you free," said Daniel Ellsberg, who risked everything, including his freedom, to expose this classified information. http://santamonicaplayhouse.com/
24-Hour Musical: The Fastest Curtain in Town b by Skylaire Alfvegren
When I was young, I was a rock hound, attending gem and mineral shows around the Southland. Once, among displays of pyrite and geodes, I found a box of paper bags, marked "$1 surprise grab bag." My interest piqued, I bought one and ripped it open, unable to identify the lumpy specimen within. "Arsenic!" a concerned mineralogist told my mother, attempting to buy it back. My tiny mind knew it was a good surprise with a lot of potential. It is with that sense of adventurous possibility that the Hooligan Theatre Company and UCLA's ACT III Theatre Ensemble present the 24-Hour Musical, wherein a musical meeting three criteria (it must be well-known, fun and employ a big cast) is rehearsed, songs and all, costumed and teched within 24 hours, culminating in the performance. Although the musical is picked months in advance, it and its roles are kept secret from the cast and crew until 8 p.m. on the night before the performance. Yes, actors fudge their lines, improvise, even erupt in laughter — but it's all to benefit No Limits, a local charity that empowers hearing-impaired children through theater. Previous productions have included Grease and Guys and Dolls. Ackerman Union Grand Ballroom, UCLA, 405 Hilgard Ave., Wesstwood. 8pm. Free, donations accepted.
Ongoing:
Initial Points: Anchors of America's Grid
Exhibit on view at CLUI Los Angeles
This new exhibit looks at the historic surveying infrastructure of the USA, and how literal monuments of place have evolved into expressive cornerstones of space. An exhibition by the Center for Land Use Interpretation in association with the Institute of Marking and Measuring with contributions by the National Museum of Surveying and the Principal Meridian Project. CLUI Los Angeles, 9331 Venice Blvd., Culver City. http://clui.org/
From our good friends over at Ghost Hunters of Urban Los Angeles:
Calling all ghost hunters, paranormal investigators, psychics, sensitives, and those interested in getting a glimpse of the "other side." Whether you are acting alone, or in a team, GHOULA wants you! Whether you are a seasoned pro or this is your first ghost hunt, GHOULA wants you!
If you are up for the challenge, come be a part of history, and solve Los Angeles' first high-profile, unsolved murder. February 1, 2012, will be the 90th anniversary of the death of silent film director, William Desmond Taylor. To mark the occasion, GHOULA is asking the local ghost-hunting community to try to shed new light on this cold case. 8:00pm to 11:00pm!
Meet at the Prince Restaurant… 3198 w 7th st., Los Angeles, CA 90005 (213) 389-1586. Asian fusion cuisine and red-flocked velvet wall paper… also, I have gathered some speculation regarding Mary Miles Minter, Aleister Crowley, mind control butterflies, and more!
I sent Jeffrey Gonzalez, who runs the Sanger Paranormal Society outside of Fresno, this clip from Jaime Maussan.
Here you can find Jeffrey's latest radio show, in which he discusses these weird creatures (starting at about 18 minutes in). http://www.livestream.com/spsradio/video?clipId=pla_c6ad4d79-ea80-4908-bad1-11e7e170878d
Jeff talks about "an incident in central Fresno" in late 2007 wherein a gentleman living in a "semi-okay neighborhood" wanted to find out who was stealing his kids' toys out of their yard and filmed a pair of these weird creatures traipsing around. Recently, similar figures were caught on a security camera on the outskirts of Yosemite. The guy who captured the footage actually contacted Jeffrey. "Right away he mentioned the video in Fresno," Jeff says.  The shooter hung up after telling Jeff his creatures were "exactly" the same height as those caught in Fresno, and Jeff mentioned that the show Fact or Faked had decided the Fresno creatures, if they existed, were much shorter than the ones he had shot. He immediately hung up!
Victor Comacho gave a presentation about the first footage at the MUFON conference in San Jose in 2008:
LAPD's Show of Force As Occupy LA "practically begged" to Leave City Hall
Skylaire Alfvegren
On the 60th day of Occupy Los Angeles, and tipped off in the afternoon that the LAPD had contacted a charter bus company with an order for 20 buses capable of holding 50 people a piece, this writer knew long before dusk that the powers that be were orchestrating a show of force not seen since the LA riots (which, actually, had no focal point but still saw rifle-toting National Guard troops posted all over downtown).
"This is the time for solidarity. If the raid happens tonight, we will go to the church." Came the word at the General Assembly. Contrary to network news reports hours later, OLA did have a plan: to reassemble at La Placita Olvera church on Main Street, which had been serving the Occupiers hot food from day one. "And we will head for the cornfield." (Also known as LA Historic Park on North Spring.) "We will decide where to go after that… to figure out where tomorrow's GA will happen."
"You can't arrest an idea, but you can certainly beat the shit out of it," someone half-joked as the evening's General Assembly rambled through various sub-committee meetings while the tension grew. It was not business as usual on the steps of City Hall; one lone candy-flipper screeched "eviction block party!" but his ravings fell on deaf ears. Violet armbands denoting non-violent unity were distributed. A Solidarity Circle was formed. The much-photographed tree house still stood (later, its occupant would be the only recipient of forcible removal via bean bag gun).
The air was electric. The fact that the LAPD allowed only three print and three television outlets (none of which were Spanish-language) to be part of their "media pool" forced a dozen news vans and twice as many citizen journos to line the south side of 1st street, facing the park and yards away from the LAPD's sleek headquarters. "Legal observers" roamed, the media tent adjacent to the steps of City Hall was dismantled, and perhaps 100 tents still stood as Occupiers braced for an unprecedented confrontation. New signs hung ("You're making this a police state," "Stop the military industrial complex," "If the corporation is king, burn the palace down," "We care we will we do we are the 99%" "Those who make revolutions half way only dig their own graves").
60 days of camping felt like enough. It was, in some ways, time to move on: part-time Occupiers felt that two months of camping, no matter how well-organized, no matter how many great lectures and workshops and food deliveries had taken place—was not enough. "This is not the time of Socrates, we can't just listen to talking under shady trees forever," an anonymous Occupier tells me. I ask about the notions of Occupy 2.0, the idea that indeed, "the world is watching." Internet rumors that 20,000 people showed up the night of the original deadline to leave, were swollen, but telling: tonight, LAPD forces were assembling a mobile booking station in the parking lot of Dodger Stadium; a friend's police scanner fed us updates as word spread that upwards of 1,000 officers, most likely in riot gear, would soon arrive, as well as the National Guard and Homeland Security, who I am told, "have had a presence since day one and straight up kidnapped three of our military guys." This is especially creepy news in the face of S 1867, the "National Defense Authorization Act," outrageously just approved by the Senate, which would make all of America a potential "battlefield" and extend the government's ability to arrest and indefinitely detain with no charges, American citizens on American soil. This is Minority Report territory.
A tactical alert had again been declared. At 9:15pm, the LAPD scanner told us the buses at Dodger Stadium—27, each with 20 officers—were loaded. Not long after, an Elysian Park resident tells me Dodger Stadium was a sea of black "riot cops doing wedge exercises." Someone walks by with a sign, "Forget the grass, save my ass!" (A retort to the mayor's complaints that it would cost upwards of $150,000 to fix the landscaping, which, if you believed city officials, had been so opulent and perfect that families eschewed real parks and regularly gathered to picnic there on the weekends.) Tension was rising. But here's the funny part; we knew the cop-filled buses had come down Alameda; what no one saw coming was the fact that it would take over two hours for the show of force to actually begin, that the bulk of the buses wouldn't roll until after midnight, that the LAPD had intended to unleash their dazzling display at 10:30 but had become "frantic and disorganized" in the face of the hundreds of Occupy supporters who began streaming into Solidarity Park and eventually took to jumping the "skirmish lines" to get in. An unscheduled, V for Vendetta-style red-and-white fireworks display temporarily broke the tension. By 10:30, MTA buses were rerouted and trains were ordered to bypass downtown stops. At 11:22, so many supporters were arriving that the LAPD, outnumbered at all points, "couldn't get started." A tear came to this curmudgeon's eye as she was briefed on her 5th Amendment rights by someone who was barely legally allowed to drink.
At 1st and Broadway, riot cops, batons and air rifles in hand, faced down with a growing number of Occupiers holding a banner that read, "Decolonize LA." The idea that the LAPD were attempting to break people down with all this downtime was soon dissolved. "They can't get started!" Someone laughed in disbelief. But they eventually did, and in spectacular fashion, having entered the subterranean tunnel under City Hall and streaming out from the building itself in large clusters.
The effect was, in fact, dazzling and unexpected. Hundreds were gathered at the intersections around City Hall, wondering on which cordoned-off street the riot cops would march; no one expected the police to descend upon Occupy, literally, from within. "We only react to how people are," an officer stationed by the news vans noted. And people were awesome.
Among the uniformed officers streaming through the throngs were clusters of white-suited arresting officers, who, later on television, looked remarkably like the Droogs of A Clockwork Orange, sans hats and baseball bats.
Contrary to Sunday night, no one was penned in til 6am; later it was learned that over 1400 officers were involved in removing—at times almost begging—Occupiers to move along. Through the night, there were three shows of force, and a couple hundred arrests—only a handful of Occupiers were hoping for confrontation. Yes, water trucks were brought in near 3:00am. 40 minutes earlier, about one hundred Occupiers were "chased" away by cops, as new masses assembled. Near 3:00am, police gave dispersement orders and read the penal code violations, an Occupier yelled, "You are in violation of the 1st Amendment, so SHUT UP." At the same time, Occupiers were already setting up tents at 536 N. Main.; around 5:00am, it took hundreds of cops to remove the 20+ diehards left, who'd linked arms and were chanting, "take off your riot helmets!"
A sign hung at the corner of 1st and Broadway: "More cuts to police. 10,000 police to loose grant funding. Save LAPD jobs." We all knew the truth would be spun; yes, the oft-maligned LAPD were on their best behavior; but so were the 1,000+ Occupiers and supporters present this night. "We're still mad as hell," one long-time Occupier tells me. "It's just time to change the game."
With dawn breaking, a CNN reporter whines, "There's an incredible amount of filth—dog food, medicine, toilet paper." When in fact, one could have practically eaten off the sidewalk at OLA the night before, cleanliness and recycling having been a paramount focus all along. The mayor made a statement that Occupy had to go when he learned that "children were living at the park." A sanitation official talks about compromised irrigation and dead grass, and how it could take "months" to re-landscape: all bullcrap. Those who were there know the truth. Crisis was averted, and Occupy LA may be changing locations but it is far from quashed. Stay tuned for Occupy 2.0.