Archive for the 'events' Category
San Diego County Fair – Del Mar, California
Fun's from Friday, June 8 to the 4th of July, except on all Mondays but July 2nd.
UFOs!… Yippee!
The 2012 Fair will truly be Out Of This World!
Join us as we explore outer space — the wonder of the universe and our efforts to explore it, as well as the fun and imaginative world of science fiction and visitors from other planets!
Click here for the website, it's pretty slick.
Hopefully I don't need to explain the horrors of GMOs (genetically modified organisms), and their main evil creators over at Monsanto (who we can also thank for Agent Orange, DDT, bovine growth hormone, and 2/3s of the produces you're probably consuming. MMM… corn spliced with mosquito DNA!) Obama appointed the VP of Monsanto as head of food safety czar, and you should be pissed. Tell him here:
http://signon.org/sign/tell-obama-to-cease-fda.fb1?source=s.fb&r_by=2088935
If you have an upcoming event which you'd like sent out to 300+ of Los Angeles' most interesting and discerning individuals, drop me a line: Skylaire@gmail.com.
–
Friday night marked the first of a new lecture series by Dr. Hoeller: Depth Psychology and the Esoteric Tradition, wherein he will "trace the major features of the tradition of inner wisdom in relation to their new articulation in psychology terms by C. G. Jung. Future Friday topics include "Hermetic Wisdom and the Teachings of C. G. Jung," "Jung as Reviver of the Gnostic Tradition" and "Jung and the Alternative Mysticism of the West." Find the entire schedule here: http://gnosis.org/gnostsoc/
My computer wouldn't let me post yesterday, so I apologize I didn't get a mention of the amazing documentary, Into the Zone: The Story of the Cacophony Society, a prankster-arts group yours truly was involved with when she was underage (and therefore, not able to incur felony convictions). So many old (old) faces at the screening last night, but I had to run to meet Haskel Wexler. The art exhibit runs through April 15:
The Cacophony Society Zone Show: You May Already be a Member
Exhibition at Grand Central Art Center
125 North Broadway, Santa Ana, CA 92701
http://www.grandcentralartcenter.com/ArtGallery_gcartgallery.php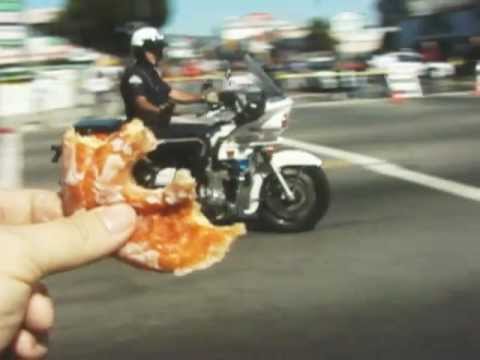 Here's why I left in such haste:
Waugh's Angeles
By Skylaire Alfvegren
Released on Oct. 11, 1965, The Loved One was promoted as "the motion picture with something to offend everyone." Refined English writer Evelyn Waugh made a temporary move to "a little town called Los Angeles," resulting in his satirical novel on which Terry Southern and Christopher Isherwood based their script. The Loved One was said to be unfilmmable, and no less a director than Luis Buñuel threw up his hands before Tony Richardson managed to tell the twisted tale of Dennis, a wide-eyed English poet (Robert Morse) who arrives in Los Angeles to visit with his old Hollywood uncle (John Gielgud). Unceremoniously let go from the studio to which he's dedicated his life, the uncle promptly commits suicide, forcing the boy into a number of horrifically funny situations as well as a romantic entanglement with naive mortuary cosmetologist Aimee Thanatogenos (Anjanette Comer). Jonathan Winters plays dual roles as a studio flunky and Rev. Wilbur Glenworthy, calculating owner of Aimee's place of work (loosely based on Forest Lawn). The Loved One also features a completely deranged Rod Steiger as head embalmer Mr. Joyboy, Paul Williams as a boy genius and Liberace as a coffin salesman, as well as cameos from the likes of Milton Berle and Chick Hearn. The darkest of black comedies, it is a litmus test, very rarely screened, and we dare not give away any more of the plot lest we scare anyone away. This American Cinematheque screening is a demented dream come true, with a moderated discussion featuring Winters, Morse and cinematographer Haskell Wexler following the film. (I filmed the 40 minutes Q&A, after which the entire audience sang Happy Birthday to Mr. Wexler, who was about to turn 90, and was most responsible for the film being made.
Sunday, February 5
The Pentagon Papers @ the Santa Monica Playhouse/the Other Space. (Presented in association with Vietnam Veterans of America.) The World Premiere of J-Powers's Pentagon Papers in the 40th anniversary year of the Watergate break-in. For the first time on stage, the hidden history of the Vietnam War that destroyed more than one president is dramatized. President Richard Nixon referred to the Watergate break-in which eventually lead to his resignation as 'silly' and 'incredible' in grand jury transcripts made public in November 2011. Powers's new play Pentagon Papers presents key passages from the recently declassified Pentagon Papers revealing the shocking secrets that led him to create a team of Watergate burglars and eventually to the self-destruction of his presidency. Unlike previous works on the subject that explore the courtroom effort regarding the right to publish, Pentagon Papers dramatizes the actual secret history of America's involvement in Vietnam. Performed by a cast of young actors, the production aims to inspire a new generation of Americans to demand honesty and transparency from leaders.  "The truth will set you free," said Daniel Ellsberg, who risked everything, including his freedom, to expose this classified information. http://santamonicaplayhouse.com/
24-Hour Musical: The Fastest Curtain in Town b by Skylaire Alfvegren
When I was young, I was a rock hound, attending gem and mineral shows around the Southland. Once, among displays of pyrite and geodes, I found a box of paper bags, marked "$1 surprise grab bag." My interest piqued, I bought one and ripped it open, unable to identify the lumpy specimen within. "Arsenic!" a concerned mineralogist told my mother, attempting to buy it back. My tiny mind knew it was a good surprise with a lot of potential. It is with that sense of adventurous possibility that the Hooligan Theatre Company and UCLA's ACT III Theatre Ensemble present the 24-Hour Musical, wherein a musical meeting three criteria (it must be well-known, fun and employ a big cast) is rehearsed, songs and all, costumed and teched within 24 hours, culminating in the performance. Although the musical is picked months in advance, it and its roles are kept secret from the cast and crew until 8 p.m. on the night before the performance. Yes, actors fudge their lines, improvise, even erupt in laughter — but it's all to benefit No Limits, a local charity that empowers hearing-impaired children through theater. Previous productions have included Grease and Guys and Dolls. Ackerman Union Grand Ballroom, UCLA, 405 Hilgard Ave., Wesstwood. 8pm. Free, donations accepted.
Ongoing:
Initial Points: Anchors of America's Grid
Exhibit on view at CLUI Los Angeles
This new exhibit looks at the historic surveying infrastructure of the USA, and how literal monuments of place have evolved into expressive cornerstones of space. An exhibition by the Center for Land Use Interpretation in association with the Institute of Marking and Measuring with contributions by the National Museum of Surveying and the Principal Meridian Project. CLUI Los Angeles, 9331 Venice Blvd., Culver City. http://clui.org/
From our good friends over at Ghost Hunters of Urban Los Angeles:
Calling all ghost hunters, paranormal investigators, psychics, sensitives, and those interested in getting a glimpse of the "other side." Whether you are acting alone, or in a team, GHOULA wants you! Whether you are a seasoned pro or this is your first ghost hunt, GHOULA wants you!
If you are up for the challenge, come be a part of history, and solve Los Angeles' first high-profile, unsolved murder. February 1, 2012, will be the 90th anniversary of the death of silent film director, William Desmond Taylor. To mark the occasion, GHOULA is asking the local ghost-hunting community to try to shed new light on this cold case. 8:00pm to 11:00pm!
Meet at the Prince Restaurant… 3198 w 7th st., Los Angeles, CA 90005 (213) 389-1586. Asian fusion cuisine and red-flocked velvet wall paper… also, I have gathered some speculation regarding Mary Miles Minter, Aleister Crowley, mind control butterflies, and more!
Tony Barboza, LA Times
Marine officials were trying to determine Tuesday what caused thousands of sardines to turn up dead in Ventura Harbor, the second mass fish die-off in local marinas in as many months.
Roughly 6 tons of the small silvery fish were found floating in the harbor early Monday. Officials said their initial theory is that the sardines died after using up all the oxygen in a corner of the harbor.
The scene in Ventura Harbor — crews churning up the water with aerators and volunteers scooping nets full of fish up from the surface — was reminiscent of the cleanup effort in Redondo Beach six weeks ago when officials discovered a thick blanket of dead sardines coating King Harbor.
Scientists are looking into whether the two die-offs share a common cause.
A spokesman for the California Department of Fish and Game said a warden visited the harbor and concluded the die-off was the result of oxygen deprivation, not water pollution, toxins or algae blooms — the usual causes of fish kills.
Last month's massive die-off occurred after millions of sardines swam into King Harbor and suffocated. It took days for crews to scoop and vacuum up about 175 tons of fish carcasses from the harbor.
Those sardines tested positive for domoic acid, a neurotoxin generated by algae blooms, but scientists believe the fish — perhaps disoriented because of the toxic algae — swam into the enclosed harbor in such huge numbers that they died as a result of critically low oxygen levels, not poisoning. Still, what caused them to swim into the marina remains a mystery.
The die-off in Ventura appears to be much smaller.
Large schools of fish started to swim into Ventura Harbor about a week ago, Harbormaster Scott Miller said; it was unclear what drove them there. Dolphins, sea lions and seabirds followed, feasting on the heavy concentration of easy prey.
"We just think they moved in there, and it was just like crowding too many people into a room," he said.
An algae bloom along the coastline in recent weeks has poisoned dozens of sea lions, dolphins and seabirds and left them stranded on beaches across Southern California, but scientists have not linked either of the fish kills to the bloom.
USC biology professor David Caron said his lab was requesting fish specimens from Ventura Harbor to test for specific toxins related to algae blooms.
"It would be very nice to know if these fish that are undergoing mortality events are in anyway impacted or have toxins in their bodies," he said.
Fish kills are usually preceded by an algae bloom that entices large numbers of plankton-eating fish to the area, said Nancy Rabalais, executive director of the Louisiana Universities Marine Consortium, who studies low-oxygen "dead zones" of decaying algae near the mouth of the Mississippi River.
Because low-oxygen zones are fed by sewage, fertilizer and other nutrient-rich runoff, water pollution is usually considered an ultimate cause of such die-offs.
More severe fish kills have besieged Ventura Harbor before, but have typically followed algae blooms known as red tides. A 10-day red tide killed more than 80 tons of fish in 2003.
Miller said the die-off seemed to be subsiding after the cleanup and aeration.
"We think we got about 90% of the fish," he said. "And the birds this morning probably got the rest of them."
http://www.latimes.com/news/local/la-me-dead-sardines-20110420,0,669124.story
Here's a short article with amazing and disturbing photos:
http://society.ezine1.com/mysterious-dead-fish-in-california-harbor-7736bd08a02.html
Some people are claiming this may be a portent of a mega quake coming our way… ?
Phenomenologist Charles Fort (1874-1932) spent 27 years of his life humorously shredding orthodox science by collating thousands of accounts of unexplained phenomena which orthodox science couldn't—and still can't—explain away. Fort sought interconnectedness between his phantasmagoria, ("our whole 'existence' is an attempt by the relative to be the absolute, or by the local to be the universal") and philosophized about it in four groundbreaking works: The Book of the Damned (1919), New Lands (1923), Lo! (1931) and Wild Talents (1932). "We are not realists. We are not idealists. We are intermediatists—that nothing is real, but that nothing is unreal: that all phenomena are approximations one way or the other between realness and unrealness… our whole quasi-existence is an intermediate stage… like purgatory, I think."
Fort first identified the fireball, the teleportation effect, and the UFO. He examined falls of blood, birds, "unctuous" and "phosphorescent" substances, flesh and coins from the world's skies. He presented the luminous bodies encircling Mars and Venus; gave poltergeists the benefit of the doubt, and wrote that his 'damned' data would be proven as well as Moses or Darwin ever "proved anything."
The world has only gotten more phenomenal since Fort's time, and the League of Western Fortean Intermediatists (L.O.W.F.I.) ensures that his spirit lives on: neither cranks nor skeptics, Forteans are characterized by their objectivity, sense of wonder, good humor and lust for supernormal adventure. Based in Los Angeles, the League of Western Fortean Intermediatists' focus is on the long, strange life of the American southwest, gathering to discuss its enigmas, peculiarities and unexplainable events. Operating as a "wire service of the weird" online, L.O.W.F.I. Boasts bloggers state by state from Oregon to Texas.
L.O.W.F.I. is a research-based, journal-publishing band of urbane explorers with interests in all shades of the paranormal, UFOs and unexplained aerial phenomena, cryptozoology and unknown animals, synchronicity and coincidence, religious cults, mass hysteria, giants and the 'little people,' inter/extra-dimensional visitors, oddball philosophies, evidence of pre-Columbian visitations to the southwest and other archaeological 'anomalies,' lost continents and vanished civilizations, spontaneous human combustion, sky falls, scientific hoaxes, earth energy/ley lines, conspiracies and enigmas, kooks and prophets, the people, places and events which make our corner of the world weird.
L.O.W.F.I. seeks to provide a clearinghouse for reports of such phenomena which will be archived and made available to the public, via a website http://www.forteanswest.com. In Los Angeles, we hold informal meetings, go on field trips and host visiting lecturers in an attempt to open lines of communication and create a sense of camaraderie amongst modern-day phenomenologists. You may already be a member!
L.O.W.F.I. founder Skylaire Alfvegren has spent a lifetime researching the weird, wacky and unexplainable history of her hometown of Los Angeles. Join her as she explains Fort's importance and the objectives of L.O.W.F.I., while detailing some of her favorite local cases of unexplainable phenomena, for the Los Angeles Visionary Association (LAVA), Sunday, May 30, from noon onwards, at Clifton's Cafeteria (upstairs).
Clifton's Cafeteria
www.cliftonscafteria.com
648 South Broadway
Los Angeles, CA 90014
213 627 1673
Skylaire at gmail.com
This Saturday, February 6, tune in to Eye to the Sky radio with hostess Dee Andrew, and Skylaire Alfvegren, master of disaster, as we discuss a number of subjects, including the Fortean mindset, my recent adventures in synchronicity, and undoubtedly, unexplained things in the sky.
7:00 (EST) 6:00pm (CST) 5:00 pm (MST) 4:00 pm (PST).
(Shows are archived on the site, as well.)
listen: http://www.ustream.tv/channel/ufo-paranormal-radio-network
You kids and your technology!
HEY GANG! THE GOOD FOLKS AT ANCIENT WISDOM ARE OFFERING L.O.W.F.I. A DISCOUNT ON TICKETS FOR JORDAN MAXWELL'S EVENT SUNDAY! COME DOWN AND ASK FOR IVY WEST, AND MENTION L.O.W.F.I.–$20 OFF PER TICKET! ONLY GOOD IF YOU BUY TICKETS ON-SITE–this is a very special and generous offer–AND LOOK FOR THE ELF IN THE BLACK LEATHER COWBOY HAT! (that'll be me!)

Also, some very interesting folks will be at the Cheap Trick show at House of Blues in West Hollywood, February 25th… shameless plug for a mighty band… sadly, I will be in Laughlin…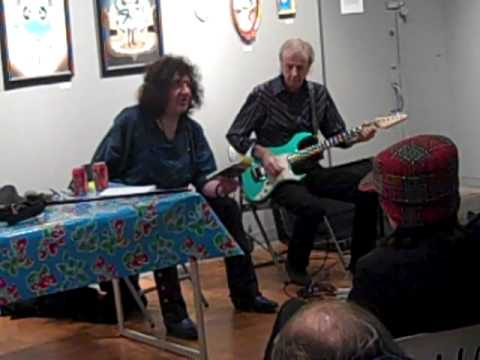 British raconteur/anarchist/proto-punk sci-fi author Mick Farren reads from his new collection, Zones of Chaos accompanied by master axman Andy Colquhoun. (And copies of Zones of Chaos can still be obtained for the super-low price of ten bucks. Just shove a ten spot in an envelope and mail it to Doc40 with your address. Email byron4d@msn.com for where to send it.)
Hi, gang… it just keeps getting better and better! Spend a day with the world's premiere occult symbologist Jordan Maxwell and Dr. Roger Leir — UFO researcher, friend of L.O.W.F.I., and possibly the world's leading authority on alien implants and their removal — in sunny Burbank! Be there or be out of the loop!
Doors open at 12 pm Noon please come early to avoid last minute rush. We will start at 2 pm with Dr. Roger Leir's slide presentation. George Noory will play past audio clips, give commentary & then introduce Jordan. Jordan will give two eye-opening brand-new multi media lectures, 2 hours each!
The Hidden Dimensions in World Affairs
in 2 parts:
* How did we get here?
* Where are we now?
We humans are controlled by words and ideas. And your decisions in life are only as good as your information. And until we begin to trace back to the source of the ideas and belief systems we live by, we will stay in trouble and continue to make bad decisions. The more we change… the more we stay the same. Governments have "Intelligent Agencies", because they don't want to believe… they want to know! Nothing is hidden from you, you just didn't look hard enough. Jordan Maxwell will start you on a "road less traveled"
No Children-Must be over 16 to attend-
$50 for general seating ~ $75 for FRONT ROW seats.
Purchase tickets ahead or pay cash at the door
Ivy West says it's a $20 discount for LOWFI! Just come to the door and ask for Ivy… Seating is limited; we have only 1,000 seats
There are 5 places to eat within walking distance. Please no Video or Audio Recording. We will be filming this event and making it available at the event, you also can order it after.
Purchase Tickets
www.AncientWisdom.net