Over the past few weeks a strange phenomenon has been seen in the sky's over Commerce City Colorado , I call this phenomenon Daytime Orbs.   Many other states have been seeing these Orbs over the past year and now Colorado has joined them.
In the MUFON reports below the orbs have been described as drops of white-out in the sky, but in the following video as you will see they appear to glow brightly.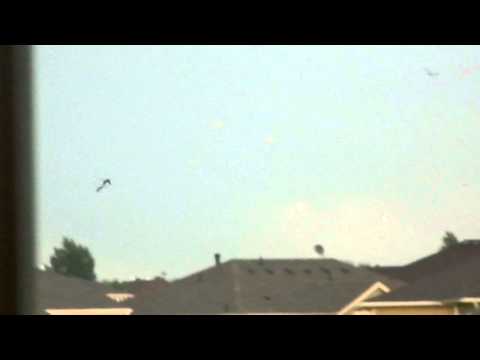 2011-08-09 2011-08-08 Looked exactly like a small drop of white-out; the stuff that covers typing errors.

I usually sit out in the parking lot where I work in Commerce City and watch as different planes fly overhead. We're located just south of one of the major east/west flight patterns and probably 20 miles southwest of DIA. I immediately noticed a lack of aircraft when I went outside at 5PM as obviously, it's in the middle of rush hour. About 5 minutes later, I noticed the object and it didn't appear to be moving at all. The object was 40,000 feet or higher; maybe a lot higher and it was stationery. From our location, it looked like it was maybe above Buckley Air Natl. Guard base. When I saw it, I immediately walked over to a car where a co-employee was taking a break. I pointed out the object to him though it took awhile for him to see it as it was very small and pretty far away. After about a minute, he saw the object too. We both watched it for about 3 minutes and then I walked away to around the corner of our building where I had noticed a couple of other co-employees as our break began. They weren't there but the object was still up there. I joined my other co-employee and we watched it for a couple of more minutes but had to go back into work. I did not see it leave, but as I looked down towards the ground to keep from tripping as I was walking back in and then looked back up and it was gone. My co-employee didn't see it leave either and stated he'd never seen anything like that. As we watched, at least 3 clouds passed by. The object disappeared behind the clouds but it could be immediately seen again after cloud passed by and in fact, one of the clouds was less dense than the others and we could see the object right through it. Again, very, very few aircaft visible across the entire east metro area that we could see and didn't see any military aircraft in the area though it's still pretty far from where we work. I have no idea what it was, but it wasn't natural and I've never seen anything like it. I'm totally fascinated by the possibilities of UFO's having always wanted to see something since I was about 6 years old living in Pueblo when I saw something very close to what I saw yesterday only the object was shining. This object again, was small, white (not glossy or shining)and was stationary the whole time. I don't believe it was a star or a planet.

2011-08-11 2011-08-09 A small drop of white-out very far away.

I made basically this same observation the day before at the exact same time though this time there were 3 other witnesses. The object was closer to my location than the day before or a little north and a little closer west. There were a few more clouds on Tuesday but passed in front of the object. Again it was very high up. Since then I've seen airplanes flying very high and from my perspective, they looked to be about 1/4″ in length whereas this object was even much higher than the highest flying planes I've seen and both objects appeared very similar in size and compared to the high flying planes was only half the size of them. I had to go back into work at 5:15PM and the object was still stationary as I walked through the door. This makes 2 days in a row, in slightly different locations but at the exact same times. I obviously had my eyes to the sky yesterday, but didn't see a thing and watched at 5, then again at 7 for half an hour and again at 9:30PM for 15 minutes and didn't see anything. I'm not there tonight but I damn sure will be tomorrow night. Again this sighting included 4 of us and I don't think any of the other witnesses would mind giving their personal info if necessary. I would have thought if it were a planet or star, the object would be visible for a few days in a row but not being an astronomer, it would only be speculation. Tell you what though, I haven't been this excited in a long time and hope I have many more reports to make to you.
2 Responses to "Strange New Sightings Part 2 Daytime Orbs Over Commerce City"