Archive for the 'ufos' Category
After Receiving daytime video of an unexplained flying object sent to them by a local Denver man, FOX 31 news takes a immediate interest in the footage. Upon receiving confirmation from a local aviation expert that the object on the video might in fact be unexplained they set out to capture footage of their own.
I have footage similar to this that I myself recorded in the skies over Grand Junction about a year ago that I'll share as soon as I do the whole YouTube thing.
After watching the video the question that I was left with is this. If this is in fact an otherworldly vehicle or even a secret government project, why is it being seen at the same time every day? And why in that area? D.I.A Perhaps?  NORAD? A good flat landing spot for first contact?  Who knows, but whatever the case may be, you have to admit, it sure is intriguing. Especially now.
On December 12th at 1:30 am a Lakewood woman witnesses what at first she believes to be a helicopter, but then after noticing that it was emitting no sound she snaps a couple photos of the object on here cell phone.   As you can see from the photos that she took the object was definitely not a helicopter.
The following is her description of the craft which can be found at
http://www.nuforc.org/webreports/085/S85825.html
I was letting dogs out in the exercise yard behind an Animal Hospital. Normally I do not do it this early but because we had no patients this night I could go home early. I was standing in a stairwell watching the dog I had let out when I noticed the bright light. It was between 1:30 Am and 2 Am. I saw only 1 unidentified object.
First I saw a bright light, thought it was a chopper but than noticed no sounds. Even though the light shined directly on me nothing was lit up as far as myself or the area around me. The object in question went further away with the bright light facing me, than like leveled out and started going in a sort of a northwest direction than it just disappeared without getting smaller. Like someone turned the lights off. It was kind of overcast up in the sky. I took the pictures on my cell phone and sent them to my PC and didn't relize what I really saw till I looked at them on my PC.
This footage comes, from Thor3and9's Youtube channel, it was taken on August 13th 2011 at Red Feather lakes, in north central Colorado. Red Feather lakes are located  about 45 miles north west of Fort Collins, and about 40 miles west of the Colorado Wyoming border.
I found this sighting particularly interesting because I saw something just like it the night before in Delta Colorado at around 10 pm.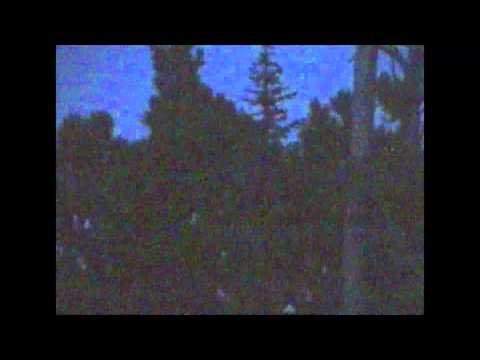 Between July 28th and August 11th  strange green laser-like lights were spotted in Boulder Colorado and in the mountains nearby.   The sightings on August 9th and 11th both took place in the 11 oclock hour and were sighted within 20 miles of each other.   All three sightings were described as a Green laser-like light.  In one report the light is stationary and in the other two the lights are in motion, they change shape and even split apart.
If these Green laser craft keep showing up hopefully someone will be able to catch them on film so we can all get a look at this interesting phenomenon.
2011-08-07 2011-07-28 Green strike in the sky, dividing itself in three green dots, joining each other to form one green light

Saw it for the third time tonight. Beam of green light as a laser beam. Divides itself in three dots, travels into space disappears, return forms a streak and divides itself in two, then join the original green light, forms a streak returns into space appears again… First sight during late night in the winter. Second sight during spring, third sight tonight. Same behaviors with small variations. Clearly to the naked eye.
Not a comet, not a laser beam. It divides itself and the two other light joins in the larger green light. Travels into space and repeats it's patterns randomly. My observations last about an hour or more. Intriguing and clear. During the first sight, winter, it left a long trail of green light.
Tonight i lost sight when it entered space and did not return after half an hour watching. Twice I saw it by myself as it was late into the night, past 1 a.m. Tonight I called a friend, because people said I was seeing things. Now I have a witness!
It's beautiful!

2011-08-10 2011-08-09 Stationary blue green laser light playing off the clouds

I went outside to walk my dog at around 11:40 pm I noticed a blue green laser light playing off the clouds. The light is stationary and is over northeast Boulder currently. Maybe the northern lights? I am not sure if they could be seen in Colorado. The light has remained in place for about 30 minutes, it is still there as i type. I woke my wife to witness this light too.

I left a 9 news tip as well for a local news channel in my area. Hoping that other people may see this light too.

2011-08-17 2011-08-11 swirling bluish lights followed vehicle for a couple miles; saw green light behind vehicle

i was driving south on hwy 72 in between ward, co and nederland, co. at about 11:15 pm. on august 11th, 2011. i noticed light outside vehicle, and thought it was either reflection from sunglasses hanging from rearview mirror, or nearly full moon light through the trees. as i continued driving, the lights stayed with me. it seemed to be in pieces that were rotating around me. it became clear that the source of the light was real but nothing i could explain. i felt a surge of fear. i looked in the mirrors, and out the windows, but could see nothing. i couldn't see above me, but it seemed that the lights were coming from above the vehicle. finally, i turned my head around to look directly out the back window. i saw a bright neon green ball of light. it seemed to be a couple hundred yards behind me, but i can not be sure. i turned my attention back to the road; a car passed. when i turned back around the light was gone. i thought that perhaps someone was harassing the vehicle with a green lazar light. the following day, i checked with the local PD, and there were no reports of anything similar to my experience. the most impressive part of this incredible experience was the sense of fear i felt, which i can not explain any more than the lights i saw.
Over the past few weeks a strange phenomenon has been seen in the sky's over Commerce City Colorado , I call this phenomenon Daytime Orbs.   Many other states have been seeing these Orbs over the past year and now Colorado has joined them.
In the MUFON reports below the orbs have been described as drops of white-out in the sky, but in the following video as you will see they appear to glow brightly.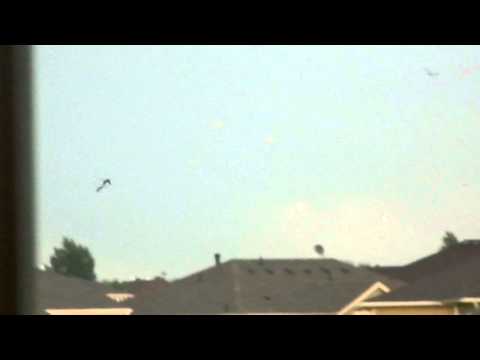 2011-08-09 2011-08-08 Looked exactly like a small drop of white-out; the stuff that covers typing errors.

I usually sit out in the parking lot where I work in Commerce City and watch as different planes fly overhead. We're located just south of one of the major east/west flight patterns and probably 20 miles southwest of DIA. I immediately noticed a lack of aircraft when I went outside at 5PM as obviously, it's in the middle of rush hour. About 5 minutes later, I noticed the object and it didn't appear to be moving at all. The object was 40,000 feet or higher; maybe a lot higher and it was stationery. From our location, it looked like it was maybe above Buckley Air Natl. Guard base. When I saw it, I immediately walked over to a car where a co-employee was taking a break. I pointed out the object to him though it took awhile for him to see it as it was very small and pretty far away. After about a minute, he saw the object too. We both watched it for about 3 minutes and then I walked away to around the corner of our building where I had noticed a couple of other co-employees as our break began. They weren't there but the object was still up there. I joined my other co-employee and we watched it for a couple of more minutes but had to go back into work. I did not see it leave, but as I looked down towards the ground to keep from tripping as I was walking back in and then looked back up and it was gone. My co-employee didn't see it leave either and stated he'd never seen anything like that. As we watched, at least 3 clouds passed by. The object disappeared behind the clouds but it could be immediately seen again after cloud passed by and in fact, one of the clouds was less dense than the others and we could see the object right through it. Again, very, very few aircaft visible across the entire east metro area that we could see and didn't see any military aircraft in the area though it's still pretty far from where we work. I have no idea what it was, but it wasn't natural and I've never seen anything like it. I'm totally fascinated by the possibilities of UFO's having always wanted to see something since I was about 6 years old living in Pueblo when I saw something very close to what I saw yesterday only the object was shining. This object again, was small, white (not glossy or shining)and was stationary the whole time. I don't believe it was a star or a planet.

2011-08-11 2011-08-09 A small drop of white-out very far away.

I made basically this same observation the day before at the exact same time though this time there were 3 other witnesses. The object was closer to my location than the day before or a little north and a little closer west. There were a few more clouds on Tuesday but passed in front of the object. Again it was very high up. Since then I've seen airplanes flying very high and from my perspective, they looked to be about 1/4″ in length whereas this object was even much higher than the highest flying planes I've seen and both objects appeared very similar in size and compared to the high flying planes was only half the size of them. I had to go back into work at 5:15PM and the object was still stationary as I walked through the door. This makes 2 days in a row, in slightly different locations but at the exact same times. I obviously had my eyes to the sky yesterday, but didn't see a thing and watched at 5, then again at 7 for half an hour and again at 9:30PM for 15 minutes and didn't see anything. I'm not there tonight but I damn sure will be tomorrow night. Again this sighting included 4 of us and I don't think any of the other witnesses would mind giving their personal info if necessary. I would have thought if it were a planet or star, the object would be visible for a few days in a row but not being an astronomer, it would only be speculation. Tell you what though, I haven't been this excited in a long time and hope I have many more reports to make to you.
The two following reports from MUFON I found very intriguing, as I read the descriptions I pictured large jellyfish in my mind, I would have loved to have seen in person what these two individuals saw, it was no doubt an incredible sight
2011-08-08 2011-07-29 In the sky as a star then changed shape and color
Let my dog out to go to the bathroom and I noticed how clear the sky was. I noticed a bright object in the sky which I thought at first was a star then it seemed to have tentacles drop from the main body. It changed color, changed shape and made the "tentacles" appear and disappear frequently.
I was very happy, not concerned for my safety which I find odd.

2011-08-05 2011-07-29 Ft. Collins, CO object in sky

On July 29, 2011 at approximately 3:00am, I let my dog out. While I was outside I noticed how clear the sky was and how easy it was to see the stars when most of the neighborhood lights were out. I noticed an exceptionally bright star in the east, however, it seemed closer than the other stars. While I watched it, there seemed to be tentacles coming from the object and it became brighter. I could not believe what I was seeing and while I watched it longer, it began to change shape and color including greens, blues and reds. The object also changed from a solid object to a type of mist then back to a solid abject.
Interestingly I did not feel scared or the need to react defensively. I did not think I needed to wake up my family to see the object. I felt the object was interacting with me and our experience was similar to a child playing with a pet.
This viewing happened four days ago and I am still very tired.

This May 31st 2011 sighting report from MUFON raises an eerie question, we've all heard about Chemtrails and the sinister agenda behind them, but what about possible other worldly vehicles doing the same thing.   In the following report a Colorado Springs woman witness's a strange sight indeed, two bright white lights in the early morning sky slowly following one another.   This by itself is strange yes, but the fact that these lights appeared to be spraying a bluish white mist makes this sighting in my opinion rather creepy.
This sighting leaves us with a few unanswered questions. Are these in fact other worldly vehicles? If so, what is their agenda, and what are they spraying?  If these lights are military in origin, then what on earth are they spraying us with now?
Here's the report from MUFON.
Long Description of Sighting Report Monday morning, about 4:22 am, May 31st:

Firstly, let me say, I am of sane mind, and I was sober (I do not drink or use drugs). I was getting ready to get into my car to go to work, my car was parked facing out of my driveway (west), and I must of glanced up and then turned to get into my car… but, I paused. Something caught my eye, so I looked up again. It took a second for my eyes and my brain to make sense of what had caught my eye, but when my confused brain finally figured it out, I about crapped myself (really). Above the house across the street, and above it's mature trees, and I believe it was actually fairly high in the sky… but, it was increadably hard to tell how high, there were two bright star-like (only brighter) white lights, slowly following eachother across the sky. But, I don't think that's the part that caught my eye… I think it was the fact that there was a misty/hazy blue/white light showering down from them in a curved manner, that almost made it look like there could be a ?solid? upside down triangle benieth them. I even watched to see if the 'triangle' area in the center would pass over any stars and obstruct my view of them, but it didn't even pass over a single star. After looking at it about 10 or 15 seconds, I realized I had my camera on me, so I shakily took it out of my purse, all while repeatedly glancing upward at the object. I began recording, when it was almost strait over-head, and recorded for 1 min, 11 sec, until it disappeared behind some trees beside my house. (Unfortunatally, my 14mp Kodak camera does not record well at night, so all I got was black screen, heavy breathing, and then 'Blair Witch' type commentary once I realized how heavily I was breathing on film. BUT, if any of you official ppl from MUFON care to contact me, to analyze my vid and see if you can pull anythiing out of it, that would be great… I know nothing about video editing.) So, once it disappeared from sight, I stopped recording, and though I was terrified, I was also in awe, so I put my camera down and ran around to the side of my house to watch it disappear to the horizon and the very barely early daylight. The creepiest part though, is that the further away it got, the more it appeared as though it was really, litterally spraying something DOWN (the hazy light). This was definatally unlike any UFO footage I have EVER seen, it was sooo strange. Cannot find anything that compares! Never thought I would see a UFO living here, as we have 2 airforce bases, 1 army base and NORAD!!!

THE STATS (Flat out):
-2 fixed (not varying in distance from eachother) bright white lights
-Perfectly angled/aligned with the direction of travel (approx. SW to NE)
-A whitish-blue light/haze/mist? showering down from them in a curved manner, almost creating a possible solid upside-down triangle below them.
-Absolutally NO sound
-Slow steady track across the sky
-I belive it was fairly high up, which would make it very large.
-No flashing lights
-light/haze/mist? was not 'trailing' behind them, but rather, keeping constant below them

Beings I got no good video of the event, I have attatched my best artist rendition of what I saw.

Please, let me know if this sounds anything like anything anyone has ever seen before!!!
Just 26 minutes and about 14 miles northeast of Colorado Springs is Falcon Colorado, Falcon is and progressing ranching community, is home to a little over ten thousand and as of Saturday has become the location of an intriguing accidental sighting, why accidental? You'll see what I mean in the following.
Colorado UFO sighting of strange craft over mountains, May 21, 2011 photos.
Colorado UFO sighting of strange craft over mountains, May 21, 2011 photos.

Date of sighting: May 21, 2011
Location of sighting: Falcon, Colorado, USA


Eyewitness states:

"Saturday afternoon, nearly at 1200, I stepped out into the back yard to take a panoramic photo of the mountains. I don't take many scenic pictures, however after looking out the window to the west, i decided to get the camera. The photo included with this report is a panoramic frame using three separate photos taken moments apart. In my mind that rules out a defect/debris on the lens (otherwise it would appear three times)."

"My camera is a Fujifilm finepix S1000 fd. It was mounted on a tripod at 12x optical zoom, and 3mb resolution. This photo was uploaded to Facebook, and several of my family and friends "liked" it, or commented. Sunday evening I was taking a second look at the picture when it became apparent that the screen on my computer was in need of a cleaning. That is when I detected the black spot on the right side of the frame. I could not identify the object in the picture. After magnifying the object on my screen it became clear to me that I was looking at something with a defined shape, but nothing familiar to me. We do see some air traffic here in the Colorado springs area, and I was an aviation ordinance man in the marine corps. So, I'm good at aircraft identification. This object does not appear to me to be a bird, or aircraft, so i have decided to report it as "unidentified", and "flying"

"note: At no time did I detect this with my naked eye, and did not discover it in the photo until a day later."

☯ Scott C. Waring wrote "UFO Sightings of 2006-2009" and "Dragons of Asgard"
In the following video and article UFO and paranormal field investigator Chuck Zukowski investigates a recent cattle mutilation which occurred on may 15th in San Luis Colorado.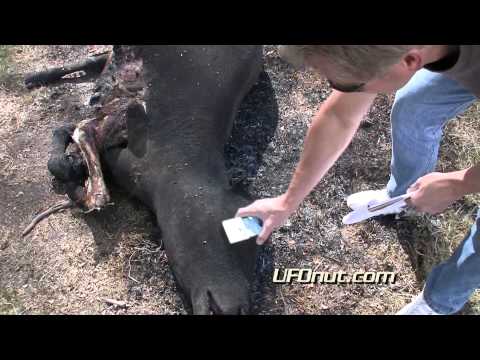 Cattle Mutilation Occurs in Rancher's Livestock, May 15th 2011…
Posted by zukowski on May 18th, 2011
While at work on the morning of May 17th 2011, I was contacted by rancher Manuel Sanchez from San Luis Colorado, about a possible mutilated cow. This is Manuel's sixth mutilated animal since 2006, so he's quite familiar with these strange types of deaths. His last mutilation in which I investigated, occurred in November of 2009. He actually lost four young calves within less than a month during that time period, with the fourth being the one I investigated. His 2006 mutilated case was featured on the Syfy Channel's show, Fact or Faked, in which their lack of investigative expertise made their team look foolish thus tarnishing that mutilation case. What a shame.

UFOnut investigative team member Matt and I, rolled on this case leaving Colorado Springs by noon on the same day. Upon arriving in the San Luis area at 2:40 that afternoon, a simple phone call enabled us to meet with Manuel in person. We then followed him just outside of town, down a long dirt road, through a gated fence, into a pasture where the animal laid. A quick rolling down of the truck window told us we were in the right area, because off in the distance was the animal laying on its left side.

The following are some of my field investigative notes:

Date of field investigation, Tuesday May 17th, 2011.

Location of mutilation was San Luis, Colorado.

The rancher found his animal the morning of 05/17/2011 after re-checking the head count realizing he was down by two animals. One female cow and a one month old calf were unaccounted for.

The last time the rancher saw this animal was on 05/13/2011. Based on the condition of the animal, assumptions are it was killed on either late Saturday May 14th or early Sunday, the 15th.

Another rancher in the area very recently spotted the carcass and flash burned the animal so as to keep his dogs and scavengers from feeding on it. Flash burning a dead animal is normal procedures for ranchers in this area, unfortunately he didn't realize he was destroying any attempts for an investigator to gather valuable evidence for a lab. Rancher Sanchez was unaware of the flash burning until he found the animal.

The mutilated cow is a 1.5 year old female who had a 1 month old calf.

A 1 month old calf was found dead lying in a stream about 300 yards from the mutilation site. Cause of death appears to be drowning. Due to the recent rains and snow melt, the streams can be deeper at times which is normal.

The dead calf is not believed to be the offspring of the mutilated cow. Another female cow was spotted by the rancher leaving the herd as if she was looking for her calf.

The mutilated cow's calf appears to be with the rest of the herd due to a good head count. The calf was recently weaned from nursing but is unusual the calf was not with the mother. Even though calves may not be nursing, generally within the first couple of months the calf usually stays near its mother.

The animal's estimated weight was 900 to 1000lbs.

Upon arrival to the mutilated carcass, it appeared the burning was not as severe as we thought. We were still able to perform a standard investigation but without taking flesh or soil samples.

Both eyes were present with no apparent bird damage.

The tongue was present but slightly scorched due to the flash burning.

There was an extremely large void of hide exposing the majority of the rib cage area between the forelegs. The hide was completely void in that area with no trace evidence of it nearby. Estimated size of cut was approximately 27 inches by 42 inches respectively and the edges of the hide were slightly burned.

Part of the abomasum (digestive track) appeared to be expanding outwards and out-gassing due to bloating.

The right front leg was stripped of flesh from the radius through the knee joint. The cannon (lower leg) was still covered with hide. There appeared to be serrated marks along the edge of the exposed knee joint. (Possible scavenger markings.)

No high EMF readings were measured.

No metallic substances were found during a magnetic wand sweep.

No unusual cuts or markings were seen after the animal was flipped over.

Overall dimension of the animal was 81 inches in length and estimated girth of 86 inches.

The animal's body was positioned pointing 65 degrees North/East.

No apparent signs of predator take-down evidence were seen which would include, clawing, biting, and other prints.

No apparent signs of struggling, and no soil movement was seen near the edges of the hoofs.

Land survey surrounding the animal showed no unusual markings in the soil. Animal tracks left by the dead animal were found in soft soil following a nearby fence. The hoof tracks did not show an injured cow had made them, appearing normal compared to older tracks found nearby. The assumption was made the animal was not previously injured before the mutilation.

Costilla County Sheriff's department responded to the mutilation.

Conclusion:

When the animal was flipped over it exposed an outline of the body between the burned grass and the untouched grass. What is unusual about this cave-like-drawing silhouette left by the animal, was the exact outline of the body in the soil showing no movement in the soil whatsoever. The animal appeared to either have died with no struggle or was laid there after death.

The absence of hide from this animal is reminiscent to the horse mutilation damage I investigated last year in Rush Colorado. It definitely appears the hide was removed unnaturally and not by predators or scavengers.

Animal death classified, "Unknown"…
MUFON REPORT:

Two large orange lights in southwestern Colorado sky

Date Submitted              Date of Event
2011-05-19                   2011-05-12

Long Description of Sighting Report

I was driving home, heading south on Interstate 25 around 10:30 PM when to my right, I noticed two very bright orange lights. Granted, I live close to the Army base, Fort Carson, but that means I also see helicopters and planes all the time and I'm one hundred percent sure I know what they look like.

The two lights were side by side, but the one to my right was slightly sitting above the other, as if in some kind of formation. I was on that interstate for a good ten or fifteen minutes while driving so, I watched them the entire time. They did not move, but they almost seemed to pulse somewhat (like get brighter) and then they would disappear altogether. They would reappear and be in the exact same position and place, to the best of my knowledge. They must have disappeared/reappeared half a dozen times.

Other cars on the interstate seemed to notice them since a few of them were braking. I go to my off-ramp and sat at the red light at the top and that is where I was able to get a photo. My Nikon Coolpix isn't a great camera and the shot isn't great, but it's better than nothing.

You could see the passenger side window frame in the top left hand side of the photo and in the distance, about 1,000 yards, you could see a large flat building with lights. There is also some street lights in the photograph which probably might make the objects in question hard to see. However, you'll notice the objects (in the center of the photo) are much more orange than the street lights.

I tried blowing the photo up and sharpening it or enhancing it, but my software is limited.

I was too spooked to stop so, I kept driving, as I was now the only car in sight. As I drove away from the objects, I kept checking my rear view and I thought I saw a third, although smaller object come up from below the two at an angle.

I felt fine, just a little spooked as this was not the first time I had seen an object like this disappear then reappear and I was by myself so, I wanted to get home. I could hear no sound, but then again I could not tell for sure or at all how far away or high these things were. I know that the direction they were in…there is nothing for miles but foothills and forests.