Archive for the 'weird news' Category
ALBUQUERQUE, N.M. (AP) – The Albuquerque man accused of stabbing four churchgoers during Sunday Mass told police he was after the choir leader because he thought the man was a Mason.

According to a criminal complaint, 24-year-old Lawrence Capener said he was going after the choir leader at St. Jude Thaddeus Catholic Church because his "speech was different" and he was 99 percent sure he was a Mason.

He told the investigator that Masons are a group involved "in a conspiracy that is far more reaching than I could or would believe."

Capener says he stabbed others who tried to subdue him because he thought they might be masons, too.

The affidavit says Capener apologized for stabbing the others after he was read his rights and agreed to speak to police.
Video here
Actually, she is not the first to sell her soul on ebay.  There was at least one man a few years ago that tried the same thing, not sure if it ever sold.
An Albuquerque woman has something for sale on eBay that most of wouldn't even consider selling at any price. It's her soul.

You can find just about anything for sale on eBay, from an ashtray for a 1959 DeSoto to a plaster bust of President Chester A. Arthur – but a human soul? We believe it to be a first.

Bids start at $2,000 for the soul of Lori N., and so far nobody has made one. But there have been a lot of hits and that's encouraging to Lori.

She was a passenger in a car struck by a drunk driver in 2007. Lori was in a coma for three weeks, and woke up suffering from a stroke, a broken hip, broken pelvis, leg, collarbone, sternum, ribs, a collapsed lung. On top of all that she lost a breast.

Lori was a freelance writer who cannot write much any more. She gets by on part-time inventory work and makes jewelry. Lori figured since her body is pretty much shot, why not market her soul?

"What I'm gonna deliver is the opportunity for someone to save my soul," Lori told KOB Eyewitness News 4. "They can save it through prayer, they can save it through conversion. They're also gonna get a certificate detailing the white and black marks on my soul."

Sort of a spiritual Carfax – the good along with the bad. Lori admitted that her eBay ad is a cry for help.

"I guess you could say that. I'm at the point now, I'm tired. I don't feel good. I'm near the end of my rope. I really am."
Video here
This is some truly weird news!  Read about it here.
Adopted president's name, shot two men, vanished
PLACITAS, N.M. (KRQE) – In one of the weirder stories in New Mexico history a leader of a 1960s hippie community and one-time candidate for governor turned outlaw.
Whatever happened to the man who called himself Ulysses S. Grant?
An Albuquerque woman who pleaded no contest to fatally stabbing a man with a dagger she planned to use as part of a Wiccan ritual was sentenced to 20 years in prison on Friday.
More here
ALBUQUERQUE (KRQE) – An Albuquerque woman accused of stabbing a man with a ritual Wiccan dagger pleaded no contest Friday to second degree murder.

Angela Sanford originally told police that she stabbed Joe Levya because she was scared he was going to rape her when they were in the Sandia Foothills for a Spring Ceremony last year. A story police and prosecutors didn't buy.

Sanford reportedly had Levya's phone number stored in her cell phone under the word "Sacrifice."

Sanford was facing first degree murder charges but agreed to plea no contest to second degree murder with an aggravated enhancement for the brutal nature of the crime.

The judge could sentence Sanford to up to 20 years in prison. She will be sentenced October 5th.
http://www.krqe.com/dpp/news/crime/wiccan-pleads-no-contest-in-man%27s-death
According to my friend J.C. Johnson of Crypto Four Corners, in March 2010, 24 sheep were mutilated at a farm near Hogback,New Mexico, on the Dine' Navajo Reservation. The livestockowner explains that there were large talon marks but very little blood and no evisceration. Was this an attack by a large flying predator? Why were the carcasses left intact? Could this have been a Chupacabras? Was this another example of animal mutilation and experimentation by non-terrestrials, aliens or government entities?
More HERE.  Warning: contains graphic photos.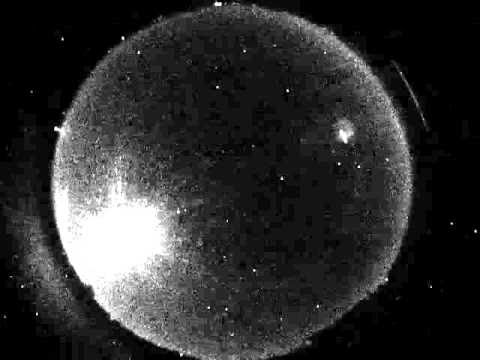 A bright, "significant" fireball seen passing near Santa Fe and Pecos on Tuesday night was likely a meteor, according to an Eldorado astronomer who captured the event on a special video camera.

"I was out in my observatory," said Thomas Ashcraft. "I heard what I thought was thunder and assumed it was thunder."

But there were no clouds in the sky. Then Ashcraft received a call from a fellow meteor watcher in El Paso who had caught the fireball on video. Ashcraft hurried inside and rewound the video on the special Sky Sentinel camera on loan to him from Sandia National Laboratories. "I saw I had it pretty well," he said.

The fireball passed over New Mexico at 9:01:27 p.m. It was visible for 23 seconds.

"That's rare. That's a very long time to see one," Ashcraft said. "This was a slow-burning fireball."

John Perez was driving on Rodeo Road near Santa Fe Place mall when he saw the flash of red. "I saw a red light in the sky going toward Pecos," said Perez, an amateur backyard star watcher. "It looked like it was going straight down."

He thought it might be remnants of a meteor shower he saw a couple of weeks ago.

On Ashcraft's video, the fireball can be seen passing by the moon.

The bright flash of light traveling across the sky, and what some described as a "loud explosion" soon after, were witnessed by several people in Santa Fe, Pecos, Ocate and elsewhere in the state. Ashcraft said the fireball's trajectory was from somewhere south of Albuquerque and appeared to end between Taos and Ocate.

Facebook users posted comments about seeing the bright light and hearing an explosion. Someone in Ocate left an anonymous message at The New Mexican saying a UFO had been spotted near the village in Eastern New Mexico.

Ashcraft is among dozens of volunteer fireball watchers who are participating in the Sky Sentinel program through Sandia. Most are in North America, but a handful are participating in Mexico, Ireland and Russia, according to Dale Clayton Jackson, the program coordinator.

Jackson said the volunteers provide vital data about objects entering the Earth's atmosphere. "We need a wider geographic area and more observations to get more meaningful statistics on how many objects enter the atmosphere, how many strike the earth and how many threaten satellites," Jackson said.

NASA uses the information to figure out how to protect astronauts from debris and meteors striking spacecraft.

Jackson said last night's meteor was a significant fireball. Sandia's Sentinel camera also captured the event.

Ashcraft said a meteor's brightness is indicative of size and is measured against the moon's light. The full moon is Minus 13. "This was a Minus 11 or Minus 12 fireball," Ashcraft said.

If the meteor landed somewhere before burning up, it becomes a meteorite. "But it is hard to say yet if it made landfall," Ashcraft said.

He said fireballs of this size and brightness are rare. "A large event like this only happens once or twice or three times a year over the same location," said Ashcraft, who operates the video camera nightly and reports data back to Sandia.

Certainly sightings of UFOs are more frequent in the Land of Enchantment. According to the National UFO Reporting Center, New Mexico residents have reported 642 instances of strange, unidentified aerial lights and shapes dating back to at least the mid-1990s. The latest report out of Santa Fe was on May 26, when someone reported seeing two gold "starlike" objects moving in a staggered formation over the Jemez Mountains just before noon, according to the Center's website.

The most recent fireball reported to the center was spotted March 3 over Rio Rancho and lasted 10 minutes, according to the poster.

Ashcraft urges anyone who captured an image of the fireball on film or video to send him a copy. If he can get more images from other locations, he can triangulate the location of the falling meteor. He can be contacted at ashcraft@heliotown.com.
Holloman Air Force Base officials have confirmed they have an airman in custody that's suspected of stabbing a woman on base.

Officials tell us Phillip Warren, 23, left the base Wednesday morning after stabbing a woman during a domestic dispute.

Warren was tracked down Thursday morning in El Paso.

The condition of the woman stabbed has not been released.
Northern New Mexico , Upon my trip from Angel Fire New Mexico where I attended Janet Sailor' s 2010 Paranormal Symposium and Film Festival to appear on the Jerry Pippin Show with panelists Dennis Balthaser and Norio Hayakawa, I noticed something strange occurring in the sky as I drove towards the Petrified Natural Forrest.

A line-shaped cloud was forming out of nothing, and strangely casting a slicing effect, not a shadow on one adjoining cloud … then it began to cast a shadow on another. I have never seen anything of the sort in my entire career scanning the skies as a UFO researcher. Thankfully I have learned over the years to scan the skies not only during the night but in the day as well.
I see this happen quite often. You can continue reading the story here.