This is some truly weird news!  Read about it here.
As I was telling JC earlier, we saw a lizard very much like this drawing. It wasn't as big as the one described by the witness which was said to be 20 lbs. The one we saw was probably under 5 lbs and only a bit over a foot long. This was many years ago and I had no interest in Cryptozoology at the time. I just assumed it was some species of NM lizard that I hadn't come across before. However, in recent years I have found that there seems to be no known species in NM that looks like what we saw.
We saw it out on Santa Ana Pueblo which is nowhere near where this other sighting took place. There was a huge rainstorm and we had pulled off the highway and decided to watch the storm which was quite fantastic. We had parked on a side road with no houses or buildings around (there was absolutely no traffic) and when the storm was over we noticed a natural arroyo that had water rushing through it not far from the road. We got out of the car to check it out and there was this lizard and he seemed very pissed off that we were disturbing his water fun! He ran towards us on his hind legs and was puffing himself up, his headdress seemed to be flaring. If I am recalling right, he was also making a noise that sounded like spitting. He had very pretty light reflecting skin, almost like holographic rainbow paper, but not that bright and shiny. Perhaps he was someone's exotic pet that they had dumped there or there is a population of undiscovered species of lizard in NM? This was before digital cameras and cell phones, so I had no camera with me. :-(
Watch the video and read about this latest sighting in the four corners area here
Artesia, New Mexico – 10-29-11
Uploaded by ufonv on Oct 31, 2011

I first thought this was a star because it appeared to not move. I spotted it just over the top of my house.

I went inside to go the restroom and then saw it was flying directly over me when I got back out, so I started to film then.

Except for once when I signaled them, there were several times when everything got brighter.

In my opinion the brightening of the screen was from the object. I signaled them twice and only twice very quickly, and the beam was directed away from it (can hear button click).

The other times the screen brightened is a mystery to me. The object was not in space, so it was not a satellite and it made no sound.
Watch the video here
Story and video here.  Someone is going to have to tell me if the video is any good because I don't have the right plug in to watch it.
Kirk B. (a BFRO investigator from Washington State) brought down his FLIR H-series handheld imager for the 2011 BFRO New Mexico expedition, at a remote hotspot in the mountains outside Los Alamos.
During the trip he recorded footage of what some BFRO members believe is a sasquatch watching the camp at night.
Watch the footage here
Hat tip to Sharon at The Bigfoot Field Reporter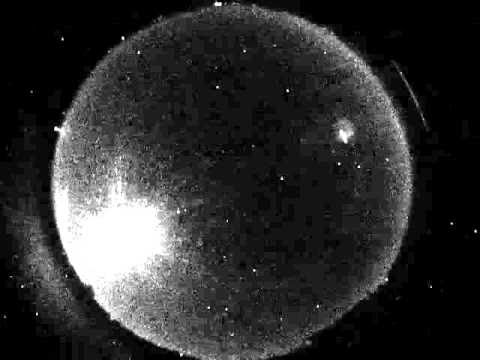 A bright, "significant" fireball seen passing near Santa Fe and Pecos on Tuesday night was likely a meteor, according to an Eldorado astronomer who captured the event on a special video camera.

"I was out in my observatory," said Thomas Ashcraft. "I heard what I thought was thunder and assumed it was thunder."

But there were no clouds in the sky. Then Ashcraft received a call from a fellow meteor watcher in El Paso who had caught the fireball on video. Ashcraft hurried inside and rewound the video on the special Sky Sentinel camera on loan to him from Sandia National Laboratories. "I saw I had it pretty well," he said.

The fireball passed over New Mexico at 9:01:27 p.m. It was visible for 23 seconds.

"That's rare. That's a very long time to see one," Ashcraft said. "This was a slow-burning fireball."

John Perez was driving on Rodeo Road near Santa Fe Place mall when he saw the flash of red. "I saw a red light in the sky going toward Pecos," said Perez, an amateur backyard star watcher. "It looked like it was going straight down."

He thought it might be remnants of a meteor shower he saw a couple of weeks ago.

On Ashcraft's video, the fireball can be seen passing by the moon.

The bright flash of light traveling across the sky, and what some described as a "loud explosion" soon after, were witnessed by several people in Santa Fe, Pecos, Ocate and elsewhere in the state. Ashcraft said the fireball's trajectory was from somewhere south of Albuquerque and appeared to end between Taos and Ocate.

Facebook users posted comments about seeing the bright light and hearing an explosion. Someone in Ocate left an anonymous message at The New Mexican saying a UFO had been spotted near the village in Eastern New Mexico.

Ashcraft is among dozens of volunteer fireball watchers who are participating in the Sky Sentinel program through Sandia. Most are in North America, but a handful are participating in Mexico, Ireland and Russia, according to Dale Clayton Jackson, the program coordinator.

Jackson said the volunteers provide vital data about objects entering the Earth's atmosphere. "We need a wider geographic area and more observations to get more meaningful statistics on how many objects enter the atmosphere, how many strike the earth and how many threaten satellites," Jackson said.

NASA uses the information to figure out how to protect astronauts from debris and meteors striking spacecraft.

Jackson said last night's meteor was a significant fireball. Sandia's Sentinel camera also captured the event.

Ashcraft said a meteor's brightness is indicative of size and is measured against the moon's light. The full moon is Minus 13. "This was a Minus 11 or Minus 12 fireball," Ashcraft said.

If the meteor landed somewhere before burning up, it becomes a meteorite. "But it is hard to say yet if it made landfall," Ashcraft said.

He said fireballs of this size and brightness are rare. "A large event like this only happens once or twice or three times a year over the same location," said Ashcraft, who operates the video camera nightly and reports data back to Sandia.

Certainly sightings of UFOs are more frequent in the Land of Enchantment. According to the National UFO Reporting Center, New Mexico residents have reported 642 instances of strange, unidentified aerial lights and shapes dating back to at least the mid-1990s. The latest report out of Santa Fe was on May 26, when someone reported seeing two gold "starlike" objects moving in a staggered formation over the Jemez Mountains just before noon, according to the Center's website.

The most recent fireball reported to the center was spotted March 3 over Rio Rancho and lasted 10 minutes, according to the poster.

Ashcraft urges anyone who captured an image of the fireball on film or video to send him a copy. If he can get more images from other locations, he can triangulate the location of the falling meteor. He can be contacted at ashcraft@heliotown.com.