From our good friends over at Ghost Hunters of Urban Los Angeles:
Calling all ghost hunters, paranormal investigators, psychics, sensitives, and those interested in getting a glimpse of the "other side." Whether you are acting alone, or in a team, GHOULA wants you! Whether you are a seasoned pro or this is your first ghost hunt, GHOULA wants you!
If you are up for the challenge, come be a part of history, and solve Los Angeles' first high-profile, unsolved murder. February 1, 2012, will be the 90th anniversary of the death of silent film director, William Desmond Taylor. To mark the occasion, GHOULA is asking the local ghost-hunting community to try to shed new light on this cold case. 8:00pm to 11:00pm!
Meet at the Prince Restaurant… 3198 w 7th st., Los Angeles, CA 90005 (213) 389-1586. Asian fusion cuisine and red-flocked velvet wall paper… also, I have gathered some speculation regarding Mary Miles Minter, Aleister Crowley, mind control butterflies, and more!
I sent Jeffrey Gonzalez, who runs the Sanger Paranormal Society outside of Fresno, this clip from Jaime Maussan.
Here you can find Jeffrey's latest radio show, in which he discusses these weird creatures (starting at about 18 minutes in). http://www.livestream.com/spsradio/video?clipId=pla_c6ad4d79-ea80-4908-bad1-11e7e170878d
Jeff talks about "an incident in central Fresno" in late 2007 wherein a gentleman living in a "semi-okay neighborhood" wanted to find out who was stealing his kids' toys out of their yard and filmed a pair of these weird creatures traipsing around. Recently, similar figures were caught on a security camera on the outskirts of Yosemite. The guy who captured the footage actually contacted Jeffrey. "Right away he mentioned the video in Fresno," Jeff says.  The shooter hung up after telling Jeff his creatures were "exactly" the same height as those caught in Fresno, and Jeff mentioned that the show Fact or Faked had decided the Fresno creatures, if they existed, were much shorter than the ones he had shot. He immediately hung up!
Victor Comacho gave a presentation about the first footage at the MUFON conference in San Jose in 2008:
LAPD's Show of Force As Occupy LA "practically begged" to Leave City Hall
Skylaire Alfvegren
On the 60th day of Occupy Los Angeles, and tipped off in the afternoon that the LAPD had contacted a charter bus company with an order for 20 buses capable of holding 50 people a piece, this writer knew long before dusk that the powers that be were orchestrating a show of force not seen since the LA riots (which, actually, had no focal point but still saw rifle-toting National Guard troops posted all over downtown).
"This is the time for solidarity. If the raid happens tonight, we will go to the church." Came the word at the General Assembly. Contrary to network news reports hours later, OLA did have a plan: to reassemble at La Placita Olvera church on Main Street, which had been serving the Occupiers hot food from day one. "And we will head for the cornfield." (Also known as LA Historic Park on North Spring.) "We will decide where to go after that… to figure out where tomorrow's GA will happen."
"You can't arrest an idea, but you can certainly beat the shit out of it," someone half-joked as the evening's General Assembly rambled through various sub-committee meetings while the tension grew. It was not business as usual on the steps of City Hall; one lone candy-flipper screeched "eviction block party!" but his ravings fell on deaf ears. Violet armbands denoting non-violent unity were distributed. A Solidarity Circle was formed. The much-photographed tree house still stood (later, its occupant would be the only recipient of forcible removal via bean bag gun).
The air was electric. The fact that the LAPD allowed only three print and three television outlets (none of which were Spanish-language) to be part of their "media pool" forced a dozen news vans and twice as many citizen journos to line the south side of 1st street, facing the park and yards away from the LAPD's sleek headquarters. "Legal observers" roamed, the media tent adjacent to the steps of City Hall was dismantled, and perhaps 100 tents still stood as Occupiers braced for an unprecedented confrontation. New signs hung ("You're making this a police state," "Stop the military industrial complex," "If the corporation is king, burn the palace down," "We care we will we do we are the 99%" "Those who make revolutions half way only dig their own graves").
60 days of camping felt like enough. It was, in some ways, time to move on: part-time Occupiers felt that two months of camping, no matter how well-organized, no matter how many great lectures and workshops and food deliveries had taken place—was not enough. "This is not the time of Socrates, we can't just listen to talking under shady trees forever," an anonymous Occupier tells me. I ask about the notions of Occupy 2.0, the idea that indeed, "the world is watching." Internet rumors that 20,000 people showed up the night of the original deadline to leave, were swollen, but telling: tonight, LAPD forces were assembling a mobile booking station in the parking lot of Dodger Stadium; a friend's police scanner fed us updates as word spread that upwards of 1,000 officers, most likely in riot gear, would soon arrive, as well as the National Guard and Homeland Security, who I am told, "have had a presence since day one and straight up kidnapped three of our military guys." This is especially creepy news in the face of S 1867, the "National Defense Authorization Act," outrageously just approved by the Senate, which would make all of America a potential "battlefield" and extend the government's ability to arrest and indefinitely detain with no charges, American citizens on American soil. This is Minority Report territory.
A tactical alert had again been declared. At 9:15pm, the LAPD scanner told us the buses at Dodger Stadium—27, each with 20 officers—were loaded. Not long after, an Elysian Park resident tells me Dodger Stadium was a sea of black "riot cops doing wedge exercises." Someone walks by with a sign, "Forget the grass, save my ass!" (A retort to the mayor's complaints that it would cost upwards of $150,000 to fix the landscaping, which, if you believed city officials, had been so opulent and perfect that families eschewed real parks and regularly gathered to picnic there on the weekends.) Tension was rising. But here's the funny part; we knew the cop-filled buses had come down Alameda; what no one saw coming was the fact that it would take over two hours for the show of force to actually begin, that the bulk of the buses wouldn't roll until after midnight, that the LAPD had intended to unleash their dazzling display at 10:30 but had become "frantic and disorganized" in the face of the hundreds of Occupy supporters who began streaming into Solidarity Park and eventually took to jumping the "skirmish lines" to get in. An unscheduled, V for Vendetta-style red-and-white fireworks display temporarily broke the tension. By 10:30, MTA buses were rerouted and trains were ordered to bypass downtown stops. At 11:22, so many supporters were arriving that the LAPD, outnumbered at all points, "couldn't get started." A tear came to this curmudgeon's eye as she was briefed on her 5th Amendment rights by someone who was barely legally allowed to drink.
At 1st and Broadway, riot cops, batons and air rifles in hand, faced down with a growing number of Occupiers holding a banner that read, "Decolonize LA." The idea that the LAPD were attempting to break people down with all this downtime was soon dissolved. "They can't get started!" Someone laughed in disbelief. But they eventually did, and in spectacular fashion, having entered the subterranean tunnel under City Hall and streaming out from the building itself in large clusters.
The effect was, in fact, dazzling and unexpected. Hundreds were gathered at the intersections around City Hall, wondering on which cordoned-off street the riot cops would march; no one expected the police to descend upon Occupy, literally, from within. "We only react to how people are," an officer stationed by the news vans noted. And people were awesome.
Among the uniformed officers streaming through the throngs were clusters of white-suited arresting officers, who, later on television, looked remarkably like the Droogs of A Clockwork Orange, sans hats and baseball bats.
Contrary to Sunday night, no one was penned in til 6am; later it was learned that over 1400 officers were involved in removing—at times almost begging—Occupiers to move along. Through the night, there were three shows of force, and a couple hundred arrests—only a handful of Occupiers were hoping for confrontation. Yes, water trucks were brought in near 3:00am. 40 minutes earlier, about one hundred Occupiers were "chased" away by cops, as new masses assembled. Near 3:00am, police gave dispersement orders and read the penal code violations, an Occupier yelled, "You are in violation of the 1st Amendment, so SHUT UP." At the same time, Occupiers were already setting up tents at 536 N. Main.; around 5:00am, it took hundreds of cops to remove the 20+ diehards left, who'd linked arms and were chanting, "take off your riot helmets!"
A sign hung at the corner of 1st and Broadway: "More cuts to police. 10,000 police to loose grant funding. Save LAPD jobs." We all knew the truth would be spun; yes, the oft-maligned LAPD were on their best behavior; but so were the 1,000+ Occupiers and supporters present this night. "We're still mad as hell," one long-time Occupier tells me. "It's just time to change the game."
With dawn breaking, a CNN reporter whines, "There's an incredible amount of filth—dog food, medicine, toilet paper." When in fact, one could have practically eaten off the sidewalk at OLA the night before, cleanliness and recycling having been a paramount focus all along. The mayor made a statement that Occupy had to go when he learned that "children were living at the park." A sanitation official talks about compromised irrigation and dead grass, and how it could take "months" to re-landscape: all bullcrap. Those who were there know the truth. Crisis was averted, and Occupy LA may be changing locations but it is far from quashed. Stay tuned for Occupy 2.0.
"Mic check. MIC CHECK!"
The now-familiar chant of OccupyLA protesters wafted through the warm night air outside the south-side steps of City Hall, as a lanky man with corkscrew hair drew closer to the mic. Old men in track pants, hippie girls with hula hoops, young men in suits and the now ubiquitous Guy Fawkes' masks, were asking him to speak up. Hundreds of others, their dome tents sprung up like a blanket of mushrooms on the lawn, faced his direction. For the second night, a consensus failed to be reached on the subject of courting unions. "In New York, they came to Zuccotti Park. We don't even have a list of demands yet," he argued, noting that local media had erroneously attributed a recent protest at a downtown BoA to OccupyLA. "We can't afford to get hijacked."
As Occupy Wall Street entered its fourth week, the movement has spread to some 840 cities, and a fair criticism—lack of cohesive message—nipped at OccupyLA. In late September, a new maxim was proved: he who registers ye olde domain name first, wins. A cyberspace kerfuffle between Occupylosangeles.org and OccupyLA.org resulted in a vote being taken on the location of the main action before the great unwashed had a voice in it, irking many of the nearly 100 folks who showed up for the first publicized "General Assembly" in Pershing Square. A "focus on minutiae" dogged early GA meetings; audible giggles were heard as a sort of "protest semaphore"—hand signals to indicate confusion, disagreement, and the like—took eons to work out; protesters clutching sheets of cardboard wandered around LA Historic Park, looking for a poster-making event; a mistyped announcement had directed them to the post-Burning Man Decompression party by mistake.
A week and a half into 'official' Occupation, and with ten times the initial participants, OccupyLA boasts the support of city council members, supplies donated by the LAPD, laudable organization—but still, what some complain is a lack of focus on the core issues: Wall Street's blatant raping of the country, overturning the notion of corporate person-hood, wealth distribution more grossly unequal than that of Tunisia, Yemen and Egypt–the last point articulated in the chant, "We are the 99%"–as in 1% of Americans control 40% of the nation's current wealth.
The sparkling weather adds a touch of surrealism not found in Boise, DC, or Portland, just as the mirage of what's nebulously referred to as Tinseltown is never far off. Political protest, Los Angeles style: news vans nestled nearby on the eve of OccupyLA's march to City Hall were parked there, in fact, to resume coverage of Conrad Murray's trial the following Monday. For a time, the mayor's office had been occupied by the crew of Gangster Squad, a period noir recounting LAPD efforts to keep the mob out of town, and while star Ryan Gosling snubbed the protest, plenty of celebs brought their support—Chuck D, Shepard Fairey, Danny Glover. Dr. Cornel West spoke; Tom Morello performed "This Land is Your Land;" Fox poked microphones into the faces of the least articulate and most outlandishly dressed.
"We've got every kind of ideologist from Marxists to Tea Partiers here," Dan, an out of work carpenter says, underlying the difficulty in even reaching a "democratic consensus." Posters demanding campaign finance reform and reinstatement of the Glass-Steagall Act, signs dissing the bank bailouts, student debt, dependence on unsustainable energy, the endless wars, the mortgage crisis, drug policy—all vie for eyeballs. On that first day at City Hall, 911 theorists had a presence. Eight days later, a screen on the lawn was projecting the horrors of factory farming, a table was set up to promote "The Zeitgeist Movement," and some feared the focus was being lost before it had been found. "This is like the whole city's soap box," Max, a CSLA junior, half-way complained, his gaze settling on a hand-lettered list of demands which included Roosevelt's lost 2nd Bill of Rights, universal healthcare and free education. "We all had issues we were pissed off about coming down here. But if we can't focus, we're toast. We have to present an articulate message."
While chanting "we are peaceful," various activists believe corporate interests are planning infiltration of the movement. While Fox News bellows that OWS has cost NYC taxpayers $2 million in additional police work, they fail to mention JP Morgan recently "donated" over twice that amount to the NYPD. It's different here: today's LAPD is not Daryl Gates' LAPD, although potential police brutality had been a primary concern. (Before OccupyLA had been granted their permit last Thursday, which among other things, allows for sound amplification, a splinter group of self-described "anarchists" claiming responsibility for the MacArthur Park May Day mini-riot in 2007 blasted music after midnight in an unsuccessful attempt to bait the cops.)
Amid speculation that even one single interloper could unleash all kinds of ugly (right-wing turd/American Spectator editor Patrick Howley having bragged about infiltrating the Washington DC Air and Space Museum protest, his lone, aggressive attempts to "mock and undermine" the Occupy movement resulting in clouds of pepper spray unleashed on peaceful marchers), protesters are on their best behavior. Murmurs of Bush's 2008 Mutual Military Agreement with Canada, of FEMA-run camps for dissidents , wind their way through the crowd. "People blaming the Bilderbergs, the CFR, the Trilateral Commission—some of that seems closer to real now," an anonymous security committee member notes. "But who needs 'em, when we know what the Koch brothers and Lloyd Blankfein do blatantly."
Just as organizer Stephen Box rightly had reminded everyone that "the Declaration of Independence arose from a list of problems Americans stood up against," it is understood that "we're up against a monster, not a unicorn," but, as someone had noted at Pershing Square, "This is a national grassroots movement still in its infancy. We're not gonna come out with a magna carta in two days. We're here because we're fed up with this convoluted mess."
With no consensus reached on union involvement, the GA moves on. "We have a special guest," the night's moderator says. Antonio, a participant in Madrid's civil uprising six months earlier, approached the mic. "Am I dreaming?" he said. "We had the same questions that you have here… we debated for weeks. What is important is… the difference between leadership and representation. Focus on the main questions. There are two things to do first: create a solid structure, and then address the issues. Ideologies—we are not talking about Left and Right, but about changing the system." In Spain, this has resulted in a new political party with parliamentary representation; in Italy, it's led to a transparency counsel, in Iceland, the creation of a new constitution. America could use a system over ride, but one wonders just what can be changed in this deranged, imbalanced republic. Amid cheers, Antonio continued: "It took Spain two months to get to where you are in nine days."
"We have what may be the best evidence for what the North American Indians call Sasquatch," declared Jeffrey Gonzalez, at a recent press conference held in the shadow of California's Sierra Nevada mountains.
Armed with motion detectors and camera equipment, DavidRaygoza had logged thousands of hours hiking the remote area, on a "mission" since stumbling upon tracks 18 years earlier, and had initially contacted Gonzalez' Sanger Paranormal Society to examine his photos. An expedition was planned. Gonzalez, Raygoza and a group of experienced outdoorsmen had spent Memorial Day weekend camped 5500 feet up in the rugged range at spot Raygoza had been led to by Native American elders. "We didn't go there willy-nilly," Gonzalez said. "They've been there a long time."
Days of "rain, snow, rain" proceeded a snowstorm, which the troupe beat a hasty retreat to avoid, abandoning Gonzalez' food-laden pick-up truck. With his laptop and video gear still in the cab, he asked fellow expedition member Allan Thomas to drive him up to retrieve it. "You don't want to walk around there alone," Gonzalez said. "You have bear, mountain lion, Sasquatch." What they found was a series of trees, seemingly "ripped from their roots," blocking the road leading to their camp. "It took four people to push the biggest one out of the road," Gonzalez said.
What they found astounded them. The food in the truck's bed was untouched, but a series of greasy impressions were found all over the rest of it. "Something had stopped and looked in," said Gonzalez. "It raised the hair on the back of my neck."
"After a bit of hooting and hollering," Gonzalez says, he "treated the truck as if it had been vandalized." The massive storm had washed away any footprints, but the amount of possible DNA in the prints all over the truck was impressive. "Oil sticks. The fact is, if you touch or even breathe on something, DNA can be extracted from that," noted Burrow, who boasts 14 years of experience as a crime scene investigator. "And cold weather preserves its integrity." After a presentation of photographs and some intriguing video Raygoza had taken over the years, Burrow compared the prints left on the truck with the facial features of possible, more mundane culprits. "If it were a mountain lion, it'd have to be 20 feet wide."
Major American news networks ran a live feed of the press conference, which attracted an assortment of curious locals. One pinch-faced news anchor almost misquoted Gonzalez' joke about gorillas on the loose in the Sierra Nevadas. One woman asked if they believed bears feared Bigfoot. "What about dermal ridges?" a serious-looking 20-something asked. Burrow answered at length, explaining that dermal ridges keep us "from falling down," but Gonzalez lamented that such prints, if any, were probably destroyed when he drove the truck down the mountain, when conditions were still so hazardous he blew out two tires.
The fact that the press conference—both an announcement, perhaps premature, and a plea for assistance to examine the DNA—was so hastily assembled, coupled with the witnesses sheer earnestness and lack of media savvy, left this writer intrigued.
"Both Jeff and David are well-known in the community," explained Leon Windham, a mechanic and three-time Bigfoot witness from nearby Tulare. "David is one of the most dedicated, time-wise. And that altitude is no joke."
It was three years ago that two Georgia-based opportunists made a similar announcement in nearby Palo Alto, having partnered with "Searching for Bigfoot, Inc." founder Tom Biscardi. Researchers smelled a rat before their plane even landed, their alleged Sasquatch "corpse" found to be an elaborate movie prop.
"We kept our discovery a secret for three weeks," Gonzalez said. "We've been slammed on the internet. What we have here is something we need to show the world, because we don't know what it is. Consider the totality of the circumstances. We have honest evidence. We hope this will encourage those with great evidence to come forward."
For even those fairly obsessed with the unexplained, it's difficult to comprehend the scope of Sasquatch until one interacts with witnesses. "You don't know how it is up here!" one local explained. "It's different in 'Squatch territory. Once you've seen one, or heard one… the volume—you can't deal! You just become obsessed."
Post-conference, Gonzalez and a handful of attendees discussed how to proceed, as well as the differences between "coastal" Sasquatches and those found elsewhere. (This writer learned that Bigfoots are known mimics; extremely agile and stealthy yet capable of intensely loud vocal projections.) One witness suggested finding the lab that analyzed hair for Monster Quest. Primatological organizations, wild animal parks, universities were suggested. A lab would need to have comparative DNA already available in order to run proper tests. Perhaps a zoo with forensics capabilities? "If we went to the Fresno zoo and said, we have possible Sasquatch DNA, they'd probably laugh us off the property," Gonzalez noted, while showing this writer his still-muddy truck.
Gonzalez, president of the Sanger Paranormal Society and a MUFON district director, has been approached by television ("a cut-throat business") for their evidence. "I wouldn't give this to Matt [Moneymaker, BFRO founder and 'star' of US Animal Planet programme, Finding Bigfoot] for $1 million dollars. We do this because it's our passion."
Contact the Sanger Paranormal Society: http://www.sangerparanormalsociety.com/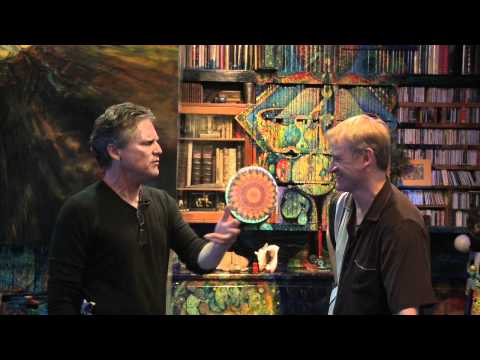 Any film which enlightens the viewer is a good thing. From the new documentary, The Truth is Out There, this writer learned that fluoridated water causes a substantial IQ drop, that the United States is nearly alone in the world operating on 120v/60hz electrical current due to a sweetheart deal with the copper industry, and that actor Eric Roberts witnessed the controlled demolition of WTC Building 7.
Seemingly far-flung facts, perhaps, but not to actor/inventor Dean Haglund. Best known for his portrayal of Langly, one of the three Lone Gunmen who graced the X Files, is affable and inquisitive as cameras capture his 15-month quest to uncover the truth. Examining "what it's like to live life so closely identified with a role [linked with] conspiracy culture," the truth reveals itself in pieces, as this cinematic sampler finds Haglund first flitting from sci-fi fan conventions and UFO conferences—interviewing a string of folks either touched by angels and extraterrestrials or making a business of investigating them. Intercut with Haglund's visit to psychotherapist Dr. Nicki Monti, are his interviews with Pete Davenport of the National UFO Reporting Service, David Sereda, the ubiquitous Richard Dolan ("How has the government hidden [UFOs] for 60 years? Through media, academic and political manipulation"), and Bob Dean, who opines, "The reason we have freedom of speech is because nobody knows anything."
Read on: http://www.openminds.tv/review-the-truth-is-out-there/

Northern California L.O.W.F.I. bureau chief Adam Gorightly and radio wizard Vyzygoth invited me on their show Untamed Dimensions last Saturday, as I was trailed by a spook at the Mutual UFO Network Symposium held in Irvine, California. I will post my MUFON report shortly, but in the meantime, listen to me blather on about the Bigfoot press conference I recently attended in Fresno, the L.O.W.F.I.  hike to Devil's Gate Reservoir, and how serial killers pop up in polite dinner conversation.

Altadena — What Are You Hiding From Us?
By Skylaire Alfvegren
Charles Fort combed the world's publications for wonders that orthodox science either ignored or explained away, entwining in his four astonishingly original books thousands of reports of ghosts and psychic phenomena, geophysical and atmospheric anomalies and astronomical and archaeological mysteries. With biting humor, a neo-Platonic sensibility and abstruse, stream-of-consciousness prose, he was the first to identify the UFO, teleportation and what came to be known as plasma physics. His damned data, he wrote, would "be 'proved' as well as Moses or Darwin ever 'proved' anything." Of his ilk, he wrote, "We are not realists. We are not idealists. We are intermediatists — that nothing is real, but that nothing is unreal: that all phenomena are approximations one way or the other between realness and unrealness." Members of the Los Angeles branch of the League of Western Fortean Intermediatists (L.O.W.F.I.) — an organization dedicated to "exploring the mysteries and peculiarities of the American West" — are meeting for a crazy investigation/supernatural hike of Altadena's Devil's Gate reservoir. Gathering input from remote viewers, psychics, black and white magic(k) practitioners, local historians, paranormal sleuths and various roustabouts, they will make the two-hour trek to the creepy summit, while contemplating the area's possible energy vortex and subterranean tunnels, its disappearing children, the secret rituals performed by Jet Propulsion Laboratory founder Jack Parsons, and the ghosts and supernatural phenomena blanketing the surrounding area, known as the Enchanted Forest. L.O.W.F.I. will meet at an undisclosed location on Lake Avenue, Altadena; Sun., July 24, 5 p.m. Email forteanswest@gmail.com for more info.

California, as one might suspect, consistently outnumbers every other state for UFO sightings; add our sacred native sites, a history of megalomaniacal capitalists, tectonic tangos and the phantasmagoric entity known as Hollywood, and you've got one bizarre metropolis. (Investigator Nick Nocerino notes that there are more "demonic" entities in Hollywood than anywhere else on Earth. How else do you explain the Smurfs movie?) Preston Dennett is a Renaissance man of the weird: homegrown MUFON field investigator, paranormal researcher, "out-of-body explorer" and the author of 10 books, including the indispensable 

Supernatural California

. Dennett delved into 110 cases where humans had been "cured" of everything from the flu to cancer after their interaction with an unidentified flying whatsit, or its occupants. Tonight, he presents a lecture based on the book and his findings.
"UFO Healings: True Accounts of People Healed by Extraterrestrials" is but one in a long, long line of well-researched monthly presentations hosted by L.A. MUFON, the local chapter of the Mutual UFO Network, which is "dedicated to resolving the scientific enigma known collectively as UFOs."
Unitarian Universalist Church, 12355 Moorpark St., Studio City. Tues., July 19, 8 p.m.; $15 non-members, $10 members. (818) 483-0864, mufonla.com/meetings.htm.