I loves me some Sabbath. I'm probably of a slightly different vint-age than most of Black Sabbath's original fans. I was high-school aged, cleaning out a rental property previously occupied by some lesbian hard-core "punk" chics and they'd left behind a copy of We Sold Our Soul For Rock n Roll - one side (b-side) of the record was completely melted but the other played fine so I started listening and was amazed. Before then I'd had this image of BS as "satanic" like all the fundamentalists had said. But I f***in loved it! Ozzy's always had such a great freakin voice.
While, searching for Fiesta Sniper news I just found this… hat tip to Blabbermouth.
Ozzy Osborne returns to San Antonio — on a Fiesta medal (Video)
by Mayra Moreno / KENS 5 / Bio | Email | Follow: @mayramorenokens
Posted on April 26, 2013 at 11:46 AM / Updated yesterday at 1:16 PM

Related:

Officials: Intoxicated El Paso man pulls an 'Ozzy' at Alamo
'Urine trouble': Alamo curators scramble to clean costly stain

SAN ANTONIO — Ozzy Osborne is back in the Alamo City.

He's not here in person, but on a Fiesta medal.

Artpace, a local non-profit dedicated to the advancement of contemporary art, featured the rocker on its first ever Fiesta medal.

"We sold out in 48 hours online," said Artpace executive director Amanda Cruz.

The medal was designed by artist Jim Mendiola and Ruben Ortiz-Torres, reflecting a project from 2001. It pictures Ozzy as a bat, with an upside down Alamo serving as each wing.

Ozzy has a well-known history in San Antonio — particularly at the Alamo. He was supposedly banned from ever performing in San Antonio after he was arrested in 1982 for urinating on the Alamo. It's a sore subject to some proud Texans, but also a quirky mishap that earned San Antonio another mention in rock and roll history.

"It's all in good fun," Cruz said.

"It would be a fun conversation starter," said Michael Helms, who was shown the medal at the NIOSA celebration on Thursday afternoon.

Not everyone agreed. One Fiesta-goer said, "Hell no, I would not wear it."

Sarah Reveley described Ozzy as "a rock singer who is still a drug addict."
BLABBERMOUTH.NET – OZZY OSBOURNE Featured On San Antonio's Fiesta Medal.
Premiere of 'The Path: Beyond the Physical' (Trailer)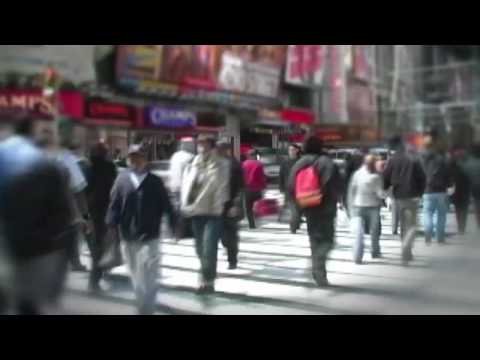 Join producer April Hannah and director Michael Habernig for a screening of their latest film, Beyond the Physical. Part II of The Path Documentary Series, the film investigates topics of out of body phenomena, remote viewing, and multiple dimensions. (Part I, Afterlife (2009), explores the concepts of life after death and encounters with what happens to the soul when it leaves the physical body.) Much of the new film was shot at the The Monroe Institute in Faber, Virginia, and features TMI's former research director and president F. Holmes "Skip" Atwater, its former executive directer Paul Rademacher, leading out-of-body expert William Buhlman, and professional physicist Thomas W. Campbell, author of My Big TOE. A question and answer panel with the filmmakers will follow the screening. For more information about the event, films, and DVDs, please visit the links below.
Screening of The Path: Beyond the Physical
With filmmakers April Hannah & Michael Habernig
Co-hosted by INACS and IONS Austin
Tuesday, April 16, 2013, 6:30 p.m.
Austin Center for Spiritual Living
5555 N Lamar Blvd, Bldg D #115
$5–$10 suggested donation
Please register at Eventbrite or Facebook
Related Links
The Path Documentary Trilogy
The Path: Beyond the Physical (2013)
The Path: Afterlife (2009)
Truth is stranger than fiction …
Via the CommonDreams.org website:
We are not making this up: A New Mexico school district did not violate the rights of students when it barred them from distributing small rubber "fetus dolls" with an anti-abortion message at two high schools, a federal appeals court has ruled. The students, members of a small religious group called Relentless in Roswell – yes, that Roswell – planned to distribute 2,500 dolls, but got shut down when the giveaway proved so disruptive one school official called it "a disaster." Tearing the small heads off the dolls, students threw them at each other, bounced them around classrooms and stuck them on the tops of their pencils; they lit the dolls on fire, plugged toilets with them, threw them against ceilings so they would stick, and hung them outside their pants like penises. Who ever said youth was wasted on the young?
Hat tip to Whitley Strieber's UNKNOWN COUNTRY and before it, Roger Marsh's Examiner blog:
Huge triangel low over Houston
Story Source:
This very typical witness account of an enormous triangle reminds us that the UFO phenomenon is constant and ongoing. There is no reason to doubt the witness. Unfortunately, there were no images made, and as the sighting took place at around three in the morning, there is also no corroboration.
Did you see it, or something else you can't explain? Let us know, we're interested! Click here to file a report.
Out There | Huge triangel low over Houston | unknowncountry.
Miles, 41, of San Antonio, said he recently flew to Port Aransas to spend the day walking the beach.

"My passenger took it on Sunday as we made our final approach," he said.

But they never actually saw the object from the cockpit of their Cessna. His passenger was simply snapping photos of their landing and they never noticed the strange streak until they were flipping through the photos at a nearby restaurant.

The object only appeared in one of the photos.
Is it a UFO? Pilot baffled by object in sky over Port Aransas | kens5.com San Antonio.
The twelfth annual Texas Bigfoot Conference will take place Saturday, March 16, 2013, at
the Fort Worth Convention Center. It will run from 9:00 AM to 7:00 PM. The conference is
sponsored by the Texas Bigfoot Research Conservancy, a nonprofit 501c(3) scientific
research organization.  To pay in advance to attend the conference, go here.

A superb lineup of speakers will offer fascinating, never before heard, presentations on a
variety of topics concerning the existence of a large bipedal ape living in remote parts of
North America, including Texas and surrounding states.
Archaeologist and adventurer Josh Gates, star of television's Destination Truth. Josh has
traveled the world investigating mysteries and unexplained phenomena, including
creatures similar to the North American wood ape (bigfoot).
Jeff Meldrum, Idaho State University Associate Professor of Anatomy and Anthropology
and author of "Sasquatch: Legend Meets Science."
Bill Munns, Veteran Hollywood FX artist and author of "The Munns Report," a detailed
analysis of the Patterson-Gimlin Film. Munns's research is ongoing and he will be
presenting information not yet presented to the public.
Kathy Strain, U.S. Forest Service anthropologist and author of "Giants, Cannibals &
Monsters: Bigfoot in Native Culture." Strain will be sharing some of her latest research
regarding historical accounts of apelike creatures as recorded in Spanish-speaking
cultures.
Brian Brown, owner of the digital marketing agency ideapark and producer of The Bigfoot
Information Project and The Bigfoot Show podcasts; member of the Texas Bigfoot
Research Conservancy Board of Directors. Brown will be presenting information
pertaining to prolonged observational field studies conducted by the TBRC the last two years in the Ouachita Mountains of southeastern Oklahoma and southwestern Arkansas.
The Fort Worth Convention Center is conveniently located in the heart of Fort Worth near
many hotels, restaurants, and and a wide range of cultural and artistic venues, including
the Stockyards National Historic District and downtown's Sundance Square.
Schedule:
9:00-9:15 – Intro and welcome
9:15-10:25 – Bill Munns
10:25-11:35 – Kathy Strain
11:35-1:00 – Lunch
1:00-2:10 – Jeff Meldrum
2:10-3:40 – Brian Brown: "In the Valley of the Wood Ape"
3:40-4:00 – Break
4:00-5:30 – Josh Gates
5:30-5:45 – Break
5:45-7:00 – Audience questions and panel discussion.
7:00 – Closing remarks and thanks.
http://www.texasbigfoot.com/index.php/news/news/48-news/225?utm_source=facebook&utm_medium=ad&utm_campaign=5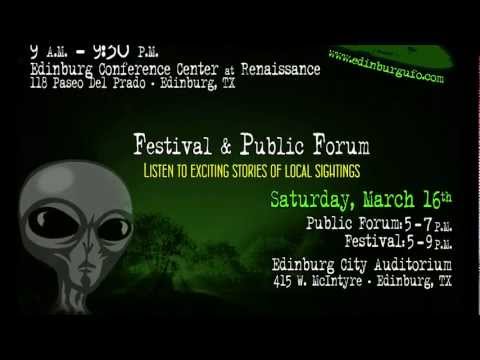 Out of This World Conference and Festival in Edinburg, Texas – Friday, March 15, 2013
March 15, 2013
www.EdinburgUFO.com
www.RoswellBooks.com/edinburg/
… AND …
Roswell UFO Festival
Tentatively set for July 5-7, 2013
www.UfoFestivalRoswell.com
www.RoswellBooks.com/festival/
Events From Last Year:
Border Zone International UFO Festival
October 19 & 20, 2012
www.RoswellBooks.com/zone/
Laredo UFO Conference
2012 – 2nd Annual, Saturday, November 10, 2012
Texas A & M International University
www.RoswellBooks.com/laredo/
We'd previously posted news that "Texas sparks international row with election observers"… well it appears that those international observers came to a county near me:
Election 'observers' given boot in Bandera

By Judith Pannebaker BCC Editor

"I didn't know who those people were. They were just standing there while I was trying to help voters," said Bandera County Election Administrator Toba Perez-Wright in an interview on Thursday, Oct. 25.
"Those people" appeared at the Ray Mauer Annex during early voting on Tuesday, Oct. 23. The duo were, according to their business cards, "long term observers" dispatched from the Office for Democratic Institutions and Human Rights in Washington DC to monitor voting in the State of Texas.
Melanie Leathers of the United Kingdom and Conny Jensen of Denmark arrived at the polling place on 12th Street while Perez-Wright was signing people in to vote. "They asked for me by name and told me that they had spoken with Keith Ingram at the Texas Secretary of State's Office," Perez-Wright said, adding, "He's pretty high up in the Secretary of State's office. They said Mr. Ingram 'knew we were coming'."
Ingram serves as director of the elections division with the office of the Texas Secretary of State
According to Perez-Wright, everything the duo told her was very general and non-specific. "I didn't understand what they were supposed to be doing," she said. "I didn't receive Keith Ingram's email about the observers until they had already left."
An email Perez-Wright received later on Oct. 23 from Ingram stated that, according to media reports, the international observers were monitoring Texas elections. Specifically, Ingram wrote, "A two-person observation team is currently in Texas sent by the Organization for Security and Cooperation in Europe (OSCE) to observe state election processes." He also added, however, "Any characterization of this team as election monitors is false. Further, the OSC monitors (have been) informed that they will not be granted a monitoring or inspection status from the Texas Secretary of State's Office."
Apparently, the current effort is part of a long-standing exchange program between members of the OSCE, including the United States, to observe each other's election processes and learn from one another.
In an Oct. 23 letter to Ambassador Daan Everts at the Office for Democratic Institutions and Human Rights in Warsaw, Poland, Attorney General Abbott was equally as blunt.
"In April, you reportedly met with a group of organizations that have filed lawsuits challenging election integrity laws enacted by the Texas Legislature," Abbott wrote. "A letter from Project Vote and other organizations urged OSCE to monitor states that have taken steps to protect ballot integrity by enacting Voter ID laws."
Abbott continued, "The OSCE may be entitled to its opinions about Voter ID laws, but your opinion is legally irrelevant in the United States, where the Supreme Court has already determined that Voter ID laws are constitutional."
Citing the Texas Election Code that governs participants in Texas elections – including OSCE representatives – Abbott noted, "The OSCE's representative are not authorized by Texas law to enter a polling place. It may be a criminal offense for OSCE's representatives to maintain a presence within 100 feet of a polling place's entrance. Failure to comply with these requirements could subject the OSCE's representatives to criminal prosecution for violating state law."
Additionally, Ingram had verbally informed OSCE representatives Leathers and Jensen that Chapter 61 of the Texas Election Code prohibited them from entering actual polling places, and, according to Ingram, "they understood this limitation."
For her part, Perez-Wright invited the duo into her office and asked, "Why are you here?" She noted, "They told me their organization had two representatives in each state and that yesterday they had been in Bexar County watching the processing of mail-in ballots, which I kind of doubted."
Before leaving the annex, Leathers and Jensen said they were going to the Medina Annex. "I told them, 'No, you're not,' and I thought they understood."
Instead, they wended their way to the GOP Headquarters where they spoke with Republican Party Chairman Ed Hodges.
His 10- to 15-minute encounter with Leathers and Jensen was singularly insignificant. "They asked me if I had been aware of any voter fraud in the county and I said, 'No'," Hodges said. He added, "I told them elections in this county were very well done with the involvement of both political parties. There are no shenanigans." The OSCE representatives also visited the Democrat Headquarters.
Echoing both Abbott and Ingram regarding the sanctity of Texas polling places, Perez-Wright said, "(The representatives) were very nice, but I don't care who you are. Even my mother isn't going to be allowed to hang around a polling place when voting is going on. I think they chose Bandera because they thought we were a small town and might not realize what was going on, but they were wrong."
Poll watchers for candidates, political parties and political action groups must have certification to monitor polling places for a limited time, she said. "Even inspectors from the State of Texas have something in hand, but these people had nothing."
Perez-Wright continued, "I've sent memos to all precinct judges and poll workers as well as to the sheriff and marshal's offices. If they come back, we'll be ready for them."
Ken Gerhard and the Houston Batman get some cryptozoological coverage this Halloween Season. Video at the link:
HOUSTON (KTRK) — Big Foot, the Chupacabra and the Loch Ness Monster — they're all creatures of lore that have captivated mankind for centuries. But did you know that Houston has a legend of its own? We go back in time for a closer look at the case of the Houston Batman.

'Houston Batman' remains mystery decades after three Houstonians' 1953 encounter with bat-like creature | abc13.com.