Archive for the 'Events' Category
Bigfoot Meets NatureFest  October 11th. & 12th. 2013
All proceeds from NatureFest 2013 to be used toward the purchase of playground equipment for the preserve.
NatureFest at the Mineola Nature Preserve in Mineola, Texas.
A RADICAL SCIENCE OF CONSCIOUSNESS
Live videoconference with Christian de Quincey, Ph.D.
Austin Center for Spiritual Living, 5555 N Lamar Blvd, Bldg D #115
Tuesday, September 17, 2013, from 6:30 to 9:00 p.m. CDT
Co-hosted by INACS and IONS Austin
Free and open to public; $5 donation appreciated
Please note that this event will NOT be available on the Web
For centuries, science has successfully explored the universe of matter from the tinest quantum to the largest galactic clusters, all the way back to the Big Bang about 13.7 billion years ago and out to the edge of the visible cosmos.

Now, the final—and greatest—frontier for science is consciousness itself.

In recent decades, neuroscience has made stunning advances in our understanding of the brain and how it correlates with many aspects of mind. And each year it seems poised to make even greater discoveries.

However, revealing the secrets of the brain is not the same as exploring consciousness. What, then, would it take for science to explore the mind per se, and not just its neural correlates?

In this presentation, philosopher Christian de Quincey examines the four major worldviews that attempt to explain the mind-body relationship—dualism, materialism, idealism, and panpsychism. He exposes the limits of each, and shows why only one of the four is likely to form a foundation for a true science of consciousness.

While neuroscience studies neurons (objective/physical), consciousness science studies consciousness (subjective/non-physical). How can we—can we—apply the scientific method to the very instrument of knowing itself? Dr. de Quincey proposes that science needs to radically change its methodology and foundational metaphysical assumptions if we are ever to develop a true science of consciousness. He will outline and compare key criteria for "Looking-Glass" vs. "Plate-Glass" science.

Christian de Quincey, Ph.D., is Professor of Philosophy and Consciousness Studies at John F. Kennedy University and Dean of Consciousness Studies at the University of Philosophical Research. He is also founder of The Wisdom Academy, offering private mentorships in consciousness. Dr. de Quincey is author of the award-winning book Radical Nature: The Soul of Matter and Radical Knowing: Understanding Consciousness through Relationship. His latest books are Consciousness from Zombies to Angels and Deep Spirit: Cracking the Noetic Code. Samples of his writings on consciousness and cosmology are available at www.christiandequincey.com.

Related Links
ChristiandeQuincey.com
Blog: iQ Noetic News
Facebook: Consciousness for Life
Twitter: @CdeQuincey
Lucid Dreaming and OBE with William Buhlman
Tuesday, July 16, 2013, 6:30-9PM (CDT) Austin, TX / Presented by INACS  (LINK-TO-RSVP)
An exploration of their relationship Live Skype videoconference with William Buhlman, author of Adventures in the Afterlife Tuesday, July 16, 2013, 6:30–9 p.m. at the Austin Center for Spiritual Living Co-hosted by INACS and IONS Austin  – free and open to public; $5 donation appreciated.

Hear William Buhlman, America's leading expert on out-of-body experiences, discuss his extensive research of 16,000 of these extraordinary events – and describe the process that can be used to effectively and safely produce non-physical adventures. 

Questions to be explored in the interview and series include:

What is the relationship between lucid dreaming and out-of-body experience (OBE)?
Do the experiences overlap in any way, and how are they different?
What is happening in the mind and body during a lucid dream versus an OBE?
What do lucid dreaming and out-of-body experience reveal about the nature of consciousness and the nature of reality?
Can most people learn to explore these states? If so, how?
Are there any potential dangers or safety issues in exploring lucid dreams and OBEs? What type of precautions should be taken?
INACS » Blog Archive » Lucid Dreaming & OBE: William Buhlman.
If you are interested in Lucid Dreaming and Out-of-Body-Experiences, you may also find INACS's research efforts into "Remote Dowsing" (aka "Remote Searching" / "Remote Sensing") of interest:
Premiere of 'The Path: Beyond the Physical' (Trailer)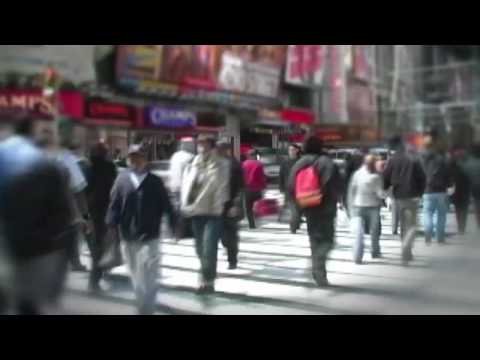 Join producer April Hannah and director Michael Habernig for a screening of their latest film, Beyond the Physical. Part II of The Path Documentary Series, the film investigates topics of out of body phenomena, remote viewing, and multiple dimensions. (Part I, Afterlife (2009), explores the concepts of life after death and encounters with what happens to the soul when it leaves the physical body.) Much of the new film was shot at the The Monroe Institute in Faber, Virginia, and features TMI's former research director and president F. Holmes "Skip" Atwater, its former executive directer Paul Rademacher, leading out-of-body expert William Buhlman, and professional physicist Thomas W. Campbell, author of My Big TOE. A question and answer panel with the filmmakers will follow the screening. For more information about the event, films, and DVDs, please visit the links below.
Screening of The Path: Beyond the Physical
With filmmakers April Hannah & Michael Habernig
Co-hosted by INACS and IONS Austin
Tuesday, April 16, 2013, 6:30 p.m.
Austin Center for Spiritual Living
5555 N Lamar Blvd, Bldg D #115
$5–$10 suggested donation
Please register at Eventbrite or Facebook
Related Links
The Path Documentary Trilogy
The Path: Beyond the Physical (2013)
The Path: Afterlife (2009)
The twelfth annual Texas Bigfoot Conference will take place Saturday, March 16, 2013, at
the Fort Worth Convention Center. It will run from 9:00 AM to 7:00 PM. The conference is
sponsored by the Texas Bigfoot Research Conservancy, a nonprofit 501c(3) scientific
research organization.  To pay in advance to attend the conference, go here.

A superb lineup of speakers will offer fascinating, never before heard, presentations on a
variety of topics concerning the existence of a large bipedal ape living in remote parts of
North America, including Texas and surrounding states.
Archaeologist and adventurer Josh Gates, star of television's Destination Truth. Josh has
traveled the world investigating mysteries and unexplained phenomena, including
creatures similar to the North American wood ape (bigfoot).
Jeff Meldrum, Idaho State University Associate Professor of Anatomy and Anthropology
and author of "Sasquatch: Legend Meets Science."
Bill Munns, Veteran Hollywood FX artist and author of "The Munns Report," a detailed
analysis of the Patterson-Gimlin Film. Munns's research is ongoing and he will be
presenting information not yet presented to the public.
Kathy Strain, U.S. Forest Service anthropologist and author of "Giants, Cannibals &
Monsters: Bigfoot in Native Culture." Strain will be sharing some of her latest research
regarding historical accounts of apelike creatures as recorded in Spanish-speaking
cultures.
Brian Brown, owner of the digital marketing agency ideapark and producer of The Bigfoot
Information Project and The Bigfoot Show podcasts; member of the Texas Bigfoot
Research Conservancy Board of Directors. Brown will be presenting information
pertaining to prolonged observational field studies conducted by the TBRC the last two years in the Ouachita Mountains of southeastern Oklahoma and southwestern Arkansas.
The Fort Worth Convention Center is conveniently located in the heart of Fort Worth near
many hotels, restaurants, and and a wide range of cultural and artistic venues, including
the Stockyards National Historic District and downtown's Sundance Square.
Schedule:
9:00-9:15 – Intro and welcome
9:15-10:25 – Bill Munns
10:25-11:35 – Kathy Strain
11:35-1:00 – Lunch
1:00-2:10 – Jeff Meldrum
2:10-3:40 – Brian Brown: "In the Valley of the Wood Ape"
3:40-4:00 – Break
4:00-5:30 – Josh Gates
5:30-5:45 – Break
5:45-7:00 – Audience questions and panel discussion.
7:00 – Closing remarks and thanks.
http://www.texasbigfoot.com/index.php/news/news/48-news/225?utm_source=facebook&utm_medium=ad&utm_campaign=5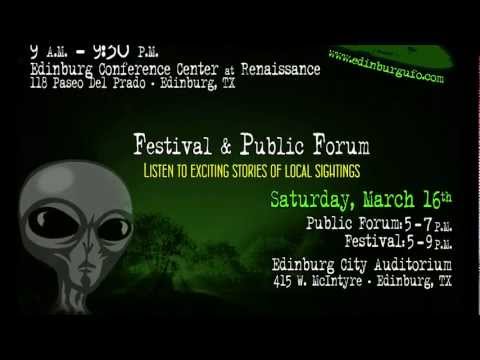 Out of This World Conference and Festival in Edinburg, Texas – Friday, March 15, 2013
March 15, 2013
www.EdinburgUFO.com
www.RoswellBooks.com/edinburg/
… AND …
Roswell UFO Festival
Tentatively set for July 5-7, 2013
www.UfoFestivalRoswell.com
www.RoswellBooks.com/festival/
Events From Last Year:
Border Zone International UFO Festival
October 19 & 20, 2012
www.RoswellBooks.com/zone/
Laredo UFO Conference
2012 – 2nd Annual, Saturday, November 10, 2012
Texas A & M International University
www.RoswellBooks.com/laredo/
 My good friend Stephen Romano is having a book signing for his latest work. The event is at Book People on South Lamar Blvd, Monday, October 1st at 7pm. Steve is the creator of several amazing works ranging from novels (The Riot Act, Black Light, and others), to TV & Movie Adaptations (Masters of Horror: Incident On And Off A Mountain Road and others), to comic books and digital art (Zombie, Shock Festival, Halloween Returns to Haddonfield, Masters of Horror: Incident On And Off A Mountain Road, and others) , to DVDs (StarCrash Special Edition and Shock Festival), as well as other artistic creations.
STEPHEN ROMANO is an acclaimed multi-media artist, whose unique jack-of-all-trades approach to the genres of horror, crime fiction, sci-fi and exploitation has produced innovative, award-winning work. He is an accomplished author, screenwriter and illustrator. His short stories, novels and comic books have garnered critical acclaim from some of the most respected authors and media sources in the world.He is the co-author of Blacklight, which is currently in pre-production as a feature film, under Oscar nominated producer Michael DeLuca, on which Stephen served as co-screenwriter. Resurrection Express is a new high octane thriller featuring Elroy Coffin. There is no code Coffin can't break, nothing he can't hack, no safe he can't get into. But for the past two years, he's been incarcerated in a maximum-security hellhole after a job gone bad, driven to near-madness by the revelation of his beloved wife's murder. Now a powerful and mysterious visitor who calls herself a "concerned citizen" offers Elroy his freedom if he'll do another job, and sweetens the deal with proof that his wife might still be alive. All Elroy has to do is hack into one of the most complicated and deadliest security grids in the world—clear and simple instructions for the best in the business. Or so he thinks….
You can find out more about Stephen at his website: www.StephenRomanoShockFestival.com
Also, a group of guys using MY NAME as there nom de plume will also be there showing off their new book.
MILES ARCENEAUX is the storytelling alter ego of Texas-based writers Brent Douglass, John T. Davis and James R. Dennis. Miles was born many years ago among a group of old friends vacationing on the Texas Gulf Coast. What began as a literary lark—a daisy-chain novel with chapters written by friends in turn—evolved into a dedicated project spearheaded by these three. In their latest, Thin Slice of Life, Charlie Sweetwater returns to his hometown to visit his brother but arrives to find he is a no-show: The Coast Guard has discovered Johnny's shrimp boat drifting abandoned in the Gulf. Is it "death by misadventure" as the authorities presume, or something more sinister? Meanwhile, Fulton Harbor, where Charlie's family have docked their shrimp boats for generations, has changed–and not for the better. Charlie finds himself falling for his brother's girlfriend, whose zealous desire to see justice served tests his own limits for loyalty and commitment. Unlikely heroes arise from improbable circumstances, and the denizens of the small seaside community find their fortunes and fates ebbing and flowing like the tidal flux of the ocean itself.

MysteryPeople Presents MILES ARCENEAUX & STEPHEN ROMANO at Bookpeople, Austin on Do512.
So check it out!
Book People
603 North Lamar Boulevard  Austin, TX 78703
www.bookpeople.com/event/mysterypeople-presents-miles-arceneaux-stephen-romano
The 2012 Women's Symposium on UFOs in Glen Rose , Texas

An invitation to all people who want to have a serious dialogue about UfOs to attend the 2012 Women's Symposium on UFOS.

The event is for men and women.

Here is the Schedule

The Women's UFO Symposium brings together leading women in UFO research, documentation and related information.

Early-bird Registration Extended to April 15!

Symposium Admission Includes:

• Pre-conference screening of The Hidden Hand with producer/director James Carman on Friday, May 18
• Entry to all speaker presentations and panels on Saturday, May 19 and Sunday, May 20
• Entry to the Pre-conference "Ladies in Red" Cocktail Party on Friday evening, May 18
• Entry to the Marketplace on Saturday, May 19 and Sunday, May 20
• "Dutch treat" Texas Bar-B-Que Saturday evening, May 19
• Skywatch on the Odom Ranch, Saturday evening, May 19

Register Now Online!

Pricing:
REGULAR • $90 per person for registration received April 16-May 19

Limited spots available. Register now using your credit card or PayPal account:

Friday, May 18, 2012

6:00 pm: "Ladies in Red" Cocktail party with cash bar, Holiday Inn Express

7:00 – 9:30 pm: Screening of "The Hidden Hand" followed by Q&A with producer/director James Carman

Saturday, May 19, 2012 – UFO Sightings Around the World

8:00 – 9:00 am: Registration

9:00 – 10:00 am: Opening remarks – Paola Harris and Tracey Austin Peters, followed by Awards Ceremony

10:00 – 11:00 am:  "A Call to Action: Ban Weapons in Space" with Carol Sue Rosin

11:00 am – 12:00 noon: "The Phoenix Lights Incident" with Dr. Lynne Kitei

Lunch 12:30 to 1:30 pm

1:30 – 2:30 pm: "Kenneth Arnold - The Man Who Started It All" with Paola Harris

2:30 – 3:30 pm: "The Road to Disclosure" with Paola Harris

3:30 – 4:30 pm:  Stephenville "The Beginning" with Angelia Joiner

4:30 – 5:30 pm: Stephenville panel – Constable Lee Roy Gaitan, Steve Allen, Ricky Sorrells and Robert Powell, moderated by Angelia Joiner

5:30 – 7:30 pm: Texas Bar-B-Que at Hammond's BBQ (dutch treat)

7:30 – 9:00 pm: Skywatch on the Odom Ranch

Sunday, May 20, 2012 - Cosmic Messages: Researching the Contact Scenario

9:30 – 10:30 am: "Let's Talk Paranormal" with Tracie Austin Peters

10:30 – 11:30 am: Interview with Karen Gresham Nickell by Paola Harris

11:30 am – 12:30 pm:  "From My Side of the Bed – A Spouse Speaks About Alien Contact" with Lisa Romanek

12:30 pm: Closing Ceremonies
Recently, an attempt was made to bring UFO Close Encounter witness Travis Walton to Central Texas (first Austin then San Antonio). Sadly, the attempt failed.
Ironically, there was a successful conference (that was a nearly mirror image of the one attempted in San Antonio) featuring Walton and other presenters in Laredo, Texas late last year…
Webb County Heritage UFO Conference | Pro 8 News.com – News, Weather, Sports – | Laredo, Texas | Local.
Report on the Laredo UFO Conference 2011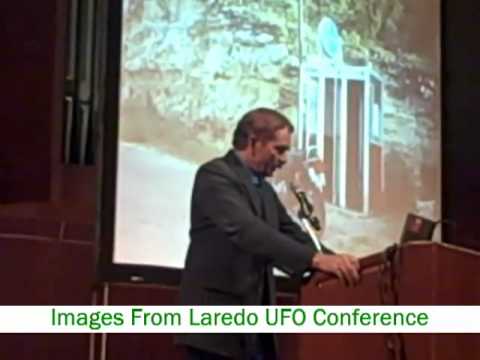 Free the Slaves, Stop the Wars, End the State
Featuring Cindy Sheehan, Scott Horton and More!
LIVE STREAM FEED – ustream.tv/channel/bravenewbooks
This Friday and Saturday March 30th and 31st, Brave New Books is proud to present – Free the Slaves, Stop the Wars, End the State – a two day liberty conference bringing you the pure form of the philosophy of… liberty, exposing the ills of America's military empire, and offering creative and radical solutions you can take to live a more free and prosperous life.

Friday night from 6:30 to 9 the conference will be taking on the war state with a talk and booksigning from Cindy Sheehan, renowned anti-war activist. Also Friday night we'll hear from Scott Horton of Antiwar Radio and Antiwar.com, Thad Crouch, and Antonio Buehler.

Then on Saturday, starting at 1PM, we'll take a walk on the radical side covering such topics as revolutionary market anarchism, sovereign parenting, alternative education, building parallel institutions, and all things anti-state. Speakers include Jim Davidson, Catherine Bleish Harold Gray, and John Bush.

So join us this Friday night at Brave New Books, 1904 Guadalupe St., from 6:30 to 9PM for Cindy Sheehan, Scott Horton, Thad Crouch, and Antonio Buehler and then join us Saturday from 1 PM to 6PM for Catherine Bleish, Jim Davidson, and others.

Visit BraveNewBookstore.com for more information.