UFOs Filmed in Dallas From a Plane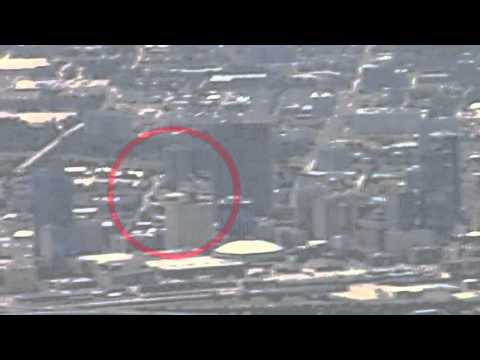 UFOs Filmed in Dallas From a Plane – Analyzed & Enhanced – March 2012
Video Info:
*HD 1080p* – March 21, 2012: Two UFOs filmed from a plane in Dallas/Fort Worth area. Video courtesy of Ann & Jennifer Thomson who just wanted to film the Fort Worth Downtown. Thanks for sharing! The first object passes through the middle of the screen. The second object passes through the bottom right of the screen. After a youtube viewer noticed the second UFO in the bottom right corner I decided to make this second video with the second object slowed down and enhanced.

Special Thanks to crazybreakingnews for sharing this. Ann & Jennifer Thomson sent crazybreakingnews this video after seeing his video of a UFO from a plane in Amsterdam. Thanks again. Original Video link: http://www.youtube.com/watch?v=PMgvSqmULFE
Hat tip www.anomalist.com


When I read this report at Roger Marsh's UFO Examiner blog I had just seen the above video of a "murmuration of starlings" moving as one organism, swooping and undulating to avoid the dive-bomb attacks of a Peregrine Falcon. What amazed me about the video, besides the always astounding "school of fish" effect of their unified movements, was how so many birds could seem to briefly vanish as their bodies all turn a certain direction, limiting their silhouette to a bare minimum visibility.
Of course that is not exactly what this witness relates here, as the "birds" appear to fly in a V-formation and not as an amorphous amoeba like those in the video.
So what did the witness actually see?
TX, March 29, 2009 – sting ray like looking birds in an arrow formation/disappear, reappear, and dissappear again. MUFON Case # 22152.
I had just flown in from Dallas to Harlingen, landed after 12 noon. I drove back with a friend and her husband to Mcallen, my home town. Before Mcallen, we drove through Pharr Texas. I was in the back seat, and I happened to look up.
I noticed, and not too high from the sky, a formation of birds, in an arrow shape, the way your normal birds migrate, but these were not the normal looking birds. They were in a perfect arrow shape, and about 8-10 of them on either side.
They were flying in synch, the exact same time and way, these birds looked like sting ray looking animals, very strange looking birds, with a wide wing span, and bodies like a sting ray.
As I was watching, they disappeared, then they reappeared within seconds, and they were still in synch as they were flying flapping their wings all at the same time. I did mention what I saw to the 2 people I was driving with, I was a little embarrassed to mention it again.
With in seconds they disappeared again, and not into clouds, because they were way below the clouds. I've told my close friends and am embarrassed to mention it to anyone because don't want anyone to think I am crazy.
Texas witness reports 'bird formation' disappearing and reappearing in clear sky.