Posts Tagged 'CryptoZoology'
The twelfth annual Texas Bigfoot Conference will take place Saturday, March 16, 2013, at
the Fort Worth Convention Center. It will run from 9:00 AM to 7:00 PM. The conference is
sponsored by the Texas Bigfoot Research Conservancy, a nonprofit 501c(3) scientific
research organization.  To pay in advance to attend the conference, go here.

A superb lineup of speakers will offer fascinating, never before heard, presentations on a
variety of topics concerning the existence of a large bipedal ape living in remote parts of
North America, including Texas and surrounding states.
Archaeologist and adventurer Josh Gates, star of television's Destination Truth. Josh has
traveled the world investigating mysteries and unexplained phenomena, including
creatures similar to the North American wood ape (bigfoot).
Jeff Meldrum, Idaho State University Associate Professor of Anatomy and Anthropology
and author of "Sasquatch: Legend Meets Science."
Bill Munns, Veteran Hollywood FX artist and author of "The Munns Report," a detailed
analysis of the Patterson-Gimlin Film. Munns's research is ongoing and he will be
presenting information not yet presented to the public.
Kathy Strain, U.S. Forest Service anthropologist and author of "Giants, Cannibals &
Monsters: Bigfoot in Native Culture." Strain will be sharing some of her latest research
regarding historical accounts of apelike creatures as recorded in Spanish-speaking
cultures.
Brian Brown, owner of the digital marketing agency ideapark and producer of The Bigfoot
Information Project and The Bigfoot Show podcasts; member of the Texas Bigfoot
Research Conservancy Board of Directors. Brown will be presenting information
pertaining to prolonged observational field studies conducted by the TBRC the last two years in the Ouachita Mountains of southeastern Oklahoma and southwestern Arkansas.
The Fort Worth Convention Center is conveniently located in the heart of Fort Worth near
many hotels, restaurants, and and a wide range of cultural and artistic venues, including
the Stockyards National Historic District and downtown's Sundance Square.
Schedule:
9:00-9:15 – Intro and welcome
9:15-10:25 – Bill Munns
10:25-11:35 – Kathy Strain
11:35-1:00 – Lunch
1:00-2:10 – Jeff Meldrum
2:10-3:40 – Brian Brown: "In the Valley of the Wood Ape"
3:40-4:00 – Break
4:00-5:30 – Josh Gates
5:30-5:45 – Break
5:45-7:00 – Audience questions and panel discussion.
7:00 – Closing remarks and thanks.
http://www.texasbigfoot.com/index.php/news/news/48-news/225?utm_source=facebook&utm_medium=ad&utm_campaign=5
Ken Gerhard and the Houston Batman get some cryptozoological coverage this Halloween Season. Video at the link:
HOUSTON (KTRK) — Big Foot, the Chupacabra and the Loch Ness Monster — they're all creatures of lore that have captivated mankind for centuries. But did you know that Houston has a legend of its own? We go back in time for a closer look at the case of the Houston Batman.

'Houston Batman' remains mystery decades after three Houstonians' 1953 encounter with bat-like creature | abc13.com.
As always, pioneering cryptozoology research from the Texas Bigfoot Research Conservancy:
The Texas Bigfoot Research Conservancy (TBRC) has recently concluded a long-term continuous field research study called "Operation Persistence." The goal of the operation was to observe and document the local wood ape population. Spanning ninety days and involving more than thirty TBRC investigators, the operation took place in an area located in the Ouachita Mountains in the region near the Arkansas-Oklahoma border. Members of the TBRC have operated in this area for more than a decade, including during 2011's long-term research study, Operation Endurance.

Over the course of Persistence, investigators collected a large amount of digital and physical evidence. While the digital evidence (in the form of unattended trail-cam photography and audio recordings) is still being analyzed, several hairs collected near the group's research facility have been inspected microscopically. Following are our conclusions regarding each of the six samples recovered, including associated photomicrographs.
 The latest "Texas Blue Dog" sightings (continually referred to as "chupacabras" by the media) hit close to home, just north of Austin in Cedar Park.
Experts explain Chupacabra sighting in Cedar Park (Video)

By: Sebastian Robertson

A Central Texas man believes he has photos of the mythical animal, the Chupacabra.

Rick Cumpston snapped photos of what he says could be the legendary monster-like creature "El Chupacabra" over the weekend at a Cedar Park winery. YNN spoke with a local wildlife expert who said the photos most likely captured wild animals forced closer to civilization due to drought.

The pictures were taken by Rick Cumpston over the weekend at a winery in Cedar Park. Cumpston says he first came across the unique looking animals about two weeks ago in the back of his workshop. 

"There was a sudden surge of fear. I didn't know what I was looking at. I didn't know if it was aggressive. I didn't know whether to grab the gun or grab the camera," he said.

Cumpston said they resemble "El chupacabra," meaning goat sucker in Spanish. It has been described as a monster-like creature that sucks the blood out of livestock, originating from Latin America folklore.

"I really have no idea what it is, my main interest was just to photograph it," Cumpston said.

Erica Hendrix is licensed to Rehabilitate Wildlife for the state. She said the unique photos are most likely another sign of the drought — sick animals wondering close to town, looking for food.

"These are more dog-like. You can see it in their stature," Hendrix said. "In the pictures that I saw, you could see the red, inflamed skin and the patches of hair. These are definitely not the mythical creatures." 

Her logic may bring the story back to reality, but Cumpston remains convinced there may be more to the story than meets the eye.

Experts say if you have strange animals roaming your property, you can set up a live trap.

Click here for help with wildlife rehabilitation.

Experts explain Chupacabra sighting in Cedar Park – YNN – Your News Now.
Bigfoot's come a long way …
What is "State Impact" on NPR?
Earlier this year a low budget bigfoot flick was being filmed in Manor, Texas…
Lone Star Scene: Bigfoot hunting indie film sprouts in Manor
The fictional town of Quality, Oregon might look familiar to residents of Manor, where City Hall sets the scene for a contentious town meeting. The conflict between Bigfoot research experts and concerned citizens plays out in a key scene for "Squatch!" It's debut feature film from Austin-based Look Now Productions.

Manor is also the old home town of director Carlos Samudio. He plans to shoot about 75 percent of the film in Texas with the rest on location at Timothy Lake in Oregon.
Principal photography continues trough the summer as the local cast and crew give their take on a long running supernatural debate.

Watch the video here: austin.ynn.com
Gotta pay this location a visit soon!
A bridge in Denton, TX, has a strange history linked to tales of a grotesque creature alleged to frequent the place. And Nick Redfern points out the state of Texas has more than one legend of the same type creature, with similar reports from other locations across the United States. Redfern provides a photograph of the quaint Denton construction that has its own private monster.
Mike Rugg of Bigfoot Discovery Project gives the latest on efforts to break down the DNA from samples believed to have come from Bigfoot evidence gathered at several sites around North America. Rugg explains the difficulties emerging from an ongoing DNA analysis being conducted at a laboratory in Texas and announces a separate effort is about to begin. Rugg's call for more Bigfoot samples is presented in video format, and the latest report on the progress at the Texas laboratory, headed up by Melba Ketchum, indicates some surprises have surfaced in the analysis her team is performing, as seen in Sasquatch DNA Project Update.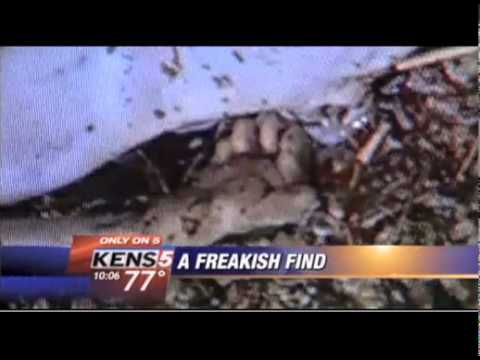 Wow! How did I miss this report from KENS-5 TV in San Antonio? Did they just describe … opposable thumbs?
"The blood-sucking chupacabra sightings continue. This time the peculiar animal has apparently been spotted in Helotes and near Stockdale. The creature appears to be hairless and sports strange toes. Drake Gafford found one of the odd dead animals along Highway 181 South. "I threw him in a sack on the bed of my pickup," he said. Gafford described the animal as having "red eyes, big old fangs and claws coming out, just a sharp as they could be."

Carcass found: Could it be the dreaded chupacabra? – kens5.com
A wonderful example of Texas anomaly researchers doing extraordinary outreach to a group of young students; TBRC (Texas Bigfoot Research Conservancy) chairman Alton Higgins and TexasCryptidHunter helped teach 4th-graders about using science and critical thinking to investigate  mysteries and enigmas:
"We were invited by teacher Kristi Fout to make a presentation to her students on the possibility of the sasquatch being a real animal and making a home here in Texas. The students are currently studying enigmas and Mrs. Fout has incorporated the bigfoot phenomenon into her curriculum. The enigmas unit was described as follows:

Students will investigate a naturally occurring enigma, an unsolved Mystery. Each student will have an opportunity to explore in depthAn enigma and hypothesize possible solutions. In their explorations, Students will use scientific research processes."

Texas Cryptid Hunter: Royse City ISD Elementary Presentation.
I continue to be pleased and excited by the efforts of the TBRC.
- SMiles
www.TexasBigfoot.org