Posts Tagged 'San Antonio'
I loves me some Sabbath. I'm probably of a slightly different vint-age than most of Black Sabbath's original fans. I was high-school aged, cleaning out a rental property previously occupied by some lesbian hard-core "punk" chics and they'd left behind a copy of We Sold Our Soul For Rock n Roll - one side (b-side) of the record was completely melted but the other played fine so I started listening and was amazed. Before then I'd had this image of BS as "satanic" like all the fundamentalists had said. But I f***in loved it! Ozzy's always had such a great freakin voice.
While, searching for Fiesta Sniper news I just found this… hat tip to Blabbermouth.
Ozzy Osborne returns to San Antonio — on a Fiesta medal (Video)
by Mayra Moreno / KENS 5 / Bio | Email | Follow: @mayramorenokens
Posted on April 26, 2013 at 11:46 AM / Updated yesterday at 1:16 PM

Related:

Officials: Intoxicated El Paso man pulls an 'Ozzy' at Alamo
'Urine trouble': Alamo curators scramble to clean costly stain

SAN ANTONIO — Ozzy Osborne is back in the Alamo City.

He's not here in person, but on a Fiesta medal.

Artpace, a local non-profit dedicated to the advancement of contemporary art, featured the rocker on its first ever Fiesta medal.

"We sold out in 48 hours online," said Artpace executive director Amanda Cruz.

The medal was designed by artist Jim Mendiola and Ruben Ortiz-Torres, reflecting a project from 2001. It pictures Ozzy as a bat, with an upside down Alamo serving as each wing.

Ozzy has a well-known history in San Antonio — particularly at the Alamo. He was supposedly banned from ever performing in San Antonio after he was arrested in 1982 for urinating on the Alamo. It's a sore subject to some proud Texans, but also a quirky mishap that earned San Antonio another mention in rock and roll history.

"It's all in good fun," Cruz said.

"It would be a fun conversation starter," said Michael Helms, who was shown the medal at the NIOSA celebration on Thursday afternoon.

Not everyone agreed. One Fiesta-goer said, "Hell no, I would not wear it."

Sarah Reveley described Ozzy as "a rock singer who is still a drug addict."
BLABBERMOUTH.NET – OZZY OSBOURNE Featured On San Antonio's Fiesta Medal.
Miles, 41, of San Antonio, said he recently flew to Port Aransas to spend the day walking the beach.

"My passenger took it on Sunday as we made our final approach," he said.

But they never actually saw the object from the cockpit of their Cessna. His passenger was simply snapping photos of their landing and they never noticed the strange streak until they were flipping through the photos at a nearby restaurant.

The object only appeared in one of the photos.
Is it a UFO? Pilot baffled by object in sky over Port Aransas | kens5.com San Antonio.
There are definitely some creepier elements to this social-clique phenomenon of which I was unaware. You'll have to read pretty deep down into this article to get to the severed dog's head portion of the story. Yikes!
Despite her protestations, the San Antonio police got a warrant to search the home of Blackheart and her mother, Lisa Rodriguez.

The officers discovered that Blackheart's bedroom walls were slathered with a reddish substance, which they believe to be blood. But her mother claimed that this was merely the result of a ketchup fight: "When they saw her room, they had to call every single cop to her room. The spots on the wall, they thought it was blood. It's ketchup. The kids had a fight. They're teenagers."

In her room the police noted that the walls were adorned with posters of wolves and anime characters. They also discovered a refrigerator full of blood. Blackheart's mother explained: "Wolfie does have a bloody refrigerator, but they're all dead animals."
Meanwhile … Flashback to a Flashback …
LOWFI-Texas Cryptozoology Flashback – Late 2010
Thanks to Ken Gerhard and his San Antonio Current blog, Chasing Shadows:
June is the birth month of San Antonio native Whitley Strieber, best known as an author of top-selling horror and science fiction novels, as well as non-fiction books that address his alleged experiences with alien abduction.

Louis Whitley Strieber was born in the Alamo City on June 13, 1945.

Happy Birthday, Whitley Strieber: denizen of 'unknown countries' | San Antonio Current — Blogs.
I had forgotten that Whitley and I not only share the same birth month but are different by many years and a day.
Check out Ken's blog, Chasing Shadows, regularly and also watch for more events at CryptidSeekers.org where he and others are actively Seeking Cryptids!
Ken Gerhard has a new blog at the San Antonio Current website. I look forward to hearing Ken's perspective on all things anomalous and Fortean with this new writing outlet for him.
Here is an excerpt from his first post:
Chasing Shadows: a blog about monster hunting

The Alamo City, you see, seems to be one of those spooky spots where weird stories and reports of the unusual abound. Understandably, many of Bexar County's historic locations such as the old missions have been rumored to play host to a variety of ghosts and lingering spirits of bygone days.
Hat tip to Craig York.
Here's an interesting tale of strange coincidence involving Texas Carnivals, Merry-go-Rounds, and a classic street-peddlers novelty toy from the website of Jason Offutt
With the statement that the story may not be paranormal, Jason Offutt relates the childhood experience of Dana Talley in 1964 when she was seven-years-old. Talley's 1964 experience would be repeated with her own child seventeen years later when he was seven-years-old. Were the two events just coincidence? Or was some other force at work at two small Texas carnivals in Witchita Falls and San Antonio in 1964 and 1981, respectively?
SOURCE: From the Shadows… The Strange Case of the Toy Monkey on a Stick.
Image from "Animals on Sticks / One-Stick Acrobats" page at Faire Tyme Toys.
Jason Offutt is a syndicated columnist, author, college journalism instructor, and fan of all things strange. His books about the paranormal, "Paranormal Missouri: Show Me Your Monsters," "What Lurks Beyond: The Paranormal In Your Backyard," "Darkness Walks: The Shadow People Among Us," and "Haunted Missouri: A Ghostly Guide to Missouri's Most Spirited Spots," are available at www.amazon.com. Jason is available for interviews, speaking engagements and beer festivals. E-mail all serious inquiries to: jasonoffutt@hotmail.com. View complete profile
LOWFI-Texas Cryptozoology Flashback – Late 2010
by SMiles Lewis
I've been a bit behind on posting (EDIT: now WAY behind) the many different weird and wonderful Texas news stories that come across our News Bureau desk the past few months. So here is a quick roundup of anomalous headlines to catch you up on the strange and mysterious happenings here in Tejas.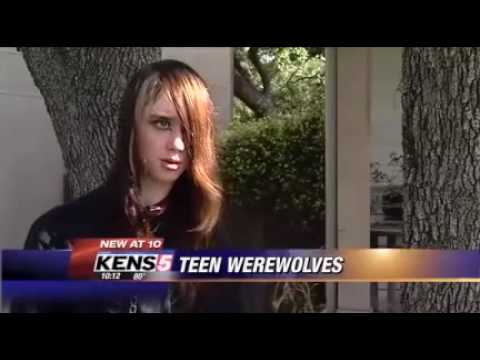 Teen wolves descend upon San Antonio high schools
Our enormous State continues to be filled with Cryptozoological wonders. Besides news stories from San Antonio about teens choosing to identify with hairy werewolves instead of undead Gothic vampires (see video clip above) this May we also had reports of "Out of Place Animals" with news out of North East Texas involving lions on the loose (Big Cats in Marshall and Marshall authorities call off search for lion – KLTV 7 News). Not to be outdone, in July reports emerged of Tigers in Dallas. Leave it to leading Cryptozoologist Loren Coleman to keep us abreast of the latest happenings in our own "backyards"…
The Dallas Observer, July 20, 2010, noted that WFAA-Channel 8 and KRLD-AM reported [on July 20, 2010] that a few folks spotted tigers in downtown Dallas [on July 19, 2010] — two, specifically, near Union Station. This caused Dallas police spokesman Senior Corporal Kevin Janse to send the following information bulletin headlined by the subject heading "Bobcat sightings."
"Last night at 10:45 pm, Dallas Police, along with Animal Control Officers, responded to a call for service regarding several people seeing what they described as possible tigers loose around the Dart Train line and Union Station. The citizens went into Union Station and alerted security who called 9-1-1. Officers searched the area for several hours as well as utilized the police helicopter. No large cats were found. The circus, that will be in town soon, does not have any animals here yet and the Dallas Zoo did not have any animals get out. It appears that they may have been two wild bobcats. They were described as being knee high and weighing about 50 pounds. Officers made several homeless people in the area aware of what was seen for their safety. The case was closed at 12:25 am with no sighting."
From: Cryptomundo » Tigers in Dallas?
Loren also treated readers to a Mysterious America flashback excerpt which gives further background to the mystery of "Out of Place Animals" (Tigers In Mysterious America).
Mainstream news outlets have been much more accomodating lately when it comes to even-handed coverage of bigfoot events and news stories. Last year the Texas Observer covered (Where The Wild Things Are) the successful Texas Bigfoot Conference held in Tyler. More recently this same 2009 conference was reported upon favorably by "the people's historian" Bob Bowman.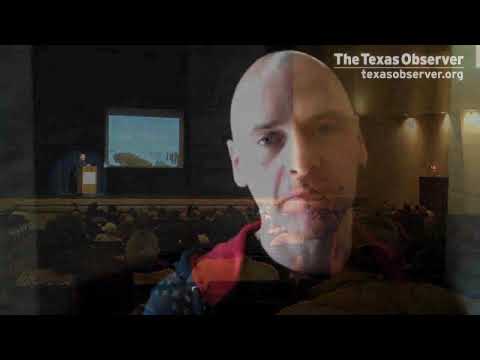 Where The Wild Things Are – The Texas Observer on the Texas Bigfoot Conference.
Of course Texas' resident Brit and Fortean, Nick Redfern, is continually investigating and publishing on the myriad monsters which supposedly prowl our State from corner to corner. Besides his previous works on the subject (Three Men Seeking Monsters, Memoirs of a Monster Hunter, There's Something In The Woods) he's just published another book on cryptozoology, this time focused on the Monsters of Texas and co-authored by fellow Texan Cryptozoologist Ken Gerhard. Ken's previous book Big Bird is also worth checking out.
Meanwhile, back up in the North East part of the State where those lion sightings occurred we hear of several other cryptozoological mysteries in The Shape Shifting Cockatrice Of Marshall, Texas and Werewolves and Shape Shifter Tales of Marshall Texas.
There was also some great research and lecturing this past year on the Texas Blue Dog (aka chupacabras). Checkout these links to Andrew Gable's thoughts as well as soon to be released audio mp3s of Fortean Cryptozoologist Jon Downes' 2010 Texas talks. You can review there entire trip to Texas at Jon and Corinna's Texas 2010 travelogue blog. And bes sure to check out this article on Nick Redfern called "Why we need the chupacabra".
More 2010 Texas Fortean Flashbacks are coming …
There were a plethora of topics I'd intended to blog about this past year. Strange things happening in Texas I had wanted to comment upon included:
Aliens & UFO Sightings
Texas' Own Mystery Missile Flap
Second UFO in 12 Months Buzzes Continental Airlines out of Bush International Airport:
Chupacabras a Cryptid?
Flying Cryptids
Lake Monsters
Bipedal Bigfoot or Escaped Chimp?

Haunted Roads / "Streets of Fear"
A few days ago I got an email from Ken Gerrard about recent bigfoot sightings just down the road from Austin in my birthtown of San Antonio:
Last night – November 30th, police on the west side of San Antonio received a 911 call from multiple eyewitnesses who claimed that they saw a hairy, hominid standing over six feet tall, run out of the woods and kill a deer. The incident was reported to the local media and broadcast earlier today. The witnesses were apparently homeless and responding officers who interviewed them found them to be completely sober and rational, though understandably scared. The police chose not to search for the creature. I have just returned from a stake out of the area, which is located at the intersection of Loop 1604 and highway 151, about ten miles from where I live. The area is somewhat developed, although fairly wooded and located near several creeks. Most of the area is private property and is fenced with barbed wire. Obviously I was not about to trespass and I'm still not 100% sure of the exact location of the incident. Reporter Joe Conger from Eyewitness News did visit the exact spot earlier today and told me there were some animal bones present. I plan on returning there with him tomorrow to look for tracks and other evidence. Best Wishes All!
Ken Gerhard ^v^
Well, here is one of the local news clips and links to some of the recent news articles about the sightings and palm prints…
//
Bigfoot in Texas