Premiere of 'The Path: Beyond the Physical' (Trailer)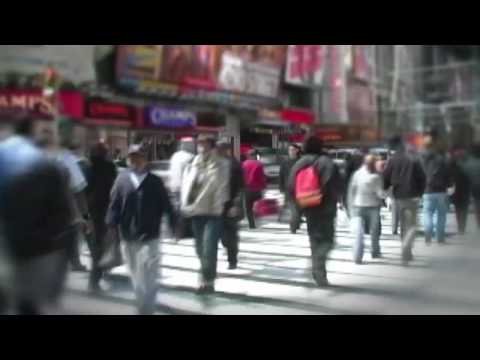 Join producer April Hannah and director Michael Habernig for a screening of their latest film, Beyond the Physical. Part II of The Path Documentary Series, the film investigates topics of out of body phenomena, remote viewing, and multiple dimensions. (Part I, Afterlife (2009), explores the concepts of life after death and encounters with what happens to the soul when it leaves the physical body.) Much of the new film was shot at the The Monroe Institute in Faber, Virginia, and features TMI's former research director and president F. Holmes "Skip" Atwater, its former executive directer Paul Rademacher, leading out-of-body expert William Buhlman, and professional physicist Thomas W. Campbell, author of My Big TOE. A question and answer panel with the filmmakers will follow the screening. For more information about the event, films, and DVDs, please visit the links below.
Screening of The Path: Beyond the Physical
With filmmakers April Hannah & Michael Habernig
Co-hosted by INACS and IONS Austin
Tuesday, April 16, 2013, 6:30 p.m.
Austin Center for Spiritual Living
5555 N Lamar Blvd, Bldg D #115
$5–$10 suggested donation
Please register at Eventbrite or Facebook
Related Links
The Path Documentary Trilogy
The Path: Beyond the Physical (2013)
The Path: Afterlife (2009)
The twelfth annual Texas Bigfoot Conference will take place Saturday, March 16, 2013, at
the Fort Worth Convention Center. It will run from 9:00 AM to 7:00 PM. The conference is
sponsored by the Texas Bigfoot Research Conservancy, a nonprofit 501c(3) scientific
research organization.  To pay in advance to attend the conference, go here.

A superb lineup of speakers will offer fascinating, never before heard, presentations on a
variety of topics concerning the existence of a large bipedal ape living in remote parts of
North America, including Texas and surrounding states.
Archaeologist and adventurer Josh Gates, star of television's Destination Truth. Josh has
traveled the world investigating mysteries and unexplained phenomena, including
creatures similar to the North American wood ape (bigfoot).
Jeff Meldrum, Idaho State University Associate Professor of Anatomy and Anthropology
and author of "Sasquatch: Legend Meets Science."
Bill Munns, Veteran Hollywood FX artist and author of "The Munns Report," a detailed
analysis of the Patterson-Gimlin Film. Munns's research is ongoing and he will be
presenting information not yet presented to the public.
Kathy Strain, U.S. Forest Service anthropologist and author of "Giants, Cannibals &
Monsters: Bigfoot in Native Culture." Strain will be sharing some of her latest research
regarding historical accounts of apelike creatures as recorded in Spanish-speaking
cultures.
Brian Brown, owner of the digital marketing agency ideapark and producer of The Bigfoot
Information Project and The Bigfoot Show podcasts; member of the Texas Bigfoot
Research Conservancy Board of Directors. Brown will be presenting information
pertaining to prolonged observational field studies conducted by the TBRC the last two years in the Ouachita Mountains of southeastern Oklahoma and southwestern Arkansas.
The Fort Worth Convention Center is conveniently located in the heart of Fort Worth near
many hotels, restaurants, and and a wide range of cultural and artistic venues, including
the Stockyards National Historic District and downtown's Sundance Square.
Schedule:
9:00-9:15 – Intro and welcome
9:15-10:25 – Bill Munns
10:25-11:35 – Kathy Strain
11:35-1:00 – Lunch
1:00-2:10 – Jeff Meldrum
2:10-3:40 – Brian Brown: "In the Valley of the Wood Ape"
3:40-4:00 – Break
4:00-5:30 – Josh Gates
5:30-5:45 – Break
5:45-7:00 – Audience questions and panel discussion.
7:00 – Closing remarks and thanks.
http://www.texasbigfoot.com/index.php/news/news/48-news/225?utm_source=facebook&utm_medium=ad&utm_campaign=5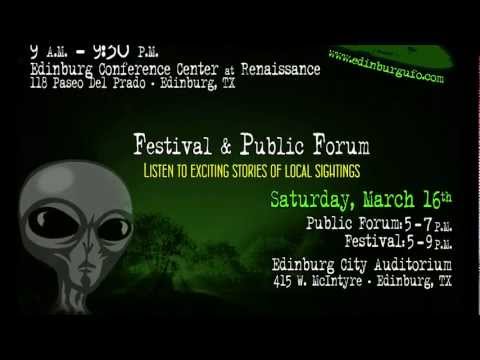 Out of This World Conference and Festival in Edinburg, Texas – Friday, March 15, 2013
March 15, 2013
www.EdinburgUFO.com
www.RoswellBooks.com/edinburg/
… AND …
Roswell UFO Festival
Tentatively set for July 5-7, 2013
www.UfoFestivalRoswell.com
www.RoswellBooks.com/festival/
Events From Last Year:
Border Zone International UFO Festival
October 19 & 20, 2012
www.RoswellBooks.com/zone/
Laredo UFO Conference
2012 – 2nd Annual, Saturday, November 10, 2012
Texas A & M International University
www.RoswellBooks.com/laredo/
We'd previously posted news that "Texas sparks international row with election observers"… well it appears that those international observers came to a county near me:
Election 'observers' given boot in Bandera

By Judith Pannebaker BCC Editor

"I didn't know who those people were. They were just standing there while I was trying to help voters," said Bandera County Election Administrator Toba Perez-Wright in an interview on Thursday, Oct. 25.
"Those people" appeared at the Ray Mauer Annex during early voting on Tuesday, Oct. 23. The duo were, according to their business cards, "long term observers" dispatched from the Office for Democratic Institutions and Human Rights in Washington DC to monitor voting in the State of Texas.
Melanie Leathers of the United Kingdom and Conny Jensen of Denmark arrived at the polling place on 12th Street while Perez-Wright was signing people in to vote. "They asked for me by name and told me that they had spoken with Keith Ingram at the Texas Secretary of State's Office," Perez-Wright said, adding, "He's pretty high up in the Secretary of State's office. They said Mr. Ingram 'knew we were coming'."
Ingram serves as director of the elections division with the office of the Texas Secretary of State
According to Perez-Wright, everything the duo told her was very general and non-specific. "I didn't understand what they were supposed to be doing," she said. "I didn't receive Keith Ingram's email about the observers until they had already left."
An email Perez-Wright received later on Oct. 23 from Ingram stated that, according to media reports, the international observers were monitoring Texas elections. Specifically, Ingram wrote, "A two-person observation team is currently in Texas sent by the Organization for Security and Cooperation in Europe (OSCE) to observe state election processes." He also added, however, "Any characterization of this team as election monitors is false. Further, the OSC monitors (have been) informed that they will not be granted a monitoring or inspection status from the Texas Secretary of State's Office."
Apparently, the current effort is part of a long-standing exchange program between members of the OSCE, including the United States, to observe each other's election processes and learn from one another.
In an Oct. 23 letter to Ambassador Daan Everts at the Office for Democratic Institutions and Human Rights in Warsaw, Poland, Attorney General Abbott was equally as blunt.
"In April, you reportedly met with a group of organizations that have filed lawsuits challenging election integrity laws enacted by the Texas Legislature," Abbott wrote. "A letter from Project Vote and other organizations urged OSCE to monitor states that have taken steps to protect ballot integrity by enacting Voter ID laws."
Abbott continued, "The OSCE may be entitled to its opinions about Voter ID laws, but your opinion is legally irrelevant in the United States, where the Supreme Court has already determined that Voter ID laws are constitutional."
Citing the Texas Election Code that governs participants in Texas elections – including OSCE representatives – Abbott noted, "The OSCE's representative are not authorized by Texas law to enter a polling place. It may be a criminal offense for OSCE's representatives to maintain a presence within 100 feet of a polling place's entrance. Failure to comply with these requirements could subject the OSCE's representatives to criminal prosecution for violating state law."
Additionally, Ingram had verbally informed OSCE representatives Leathers and Jensen that Chapter 61 of the Texas Election Code prohibited them from entering actual polling places, and, according to Ingram, "they understood this limitation."
For her part, Perez-Wright invited the duo into her office and asked, "Why are you here?" She noted, "They told me their organization had two representatives in each state and that yesterday they had been in Bexar County watching the processing of mail-in ballots, which I kind of doubted."
Before leaving the annex, Leathers and Jensen said they were going to the Medina Annex. "I told them, 'No, you're not,' and I thought they understood."
Instead, they wended their way to the GOP Headquarters where they spoke with Republican Party Chairman Ed Hodges.
His 10- to 15-minute encounter with Leathers and Jensen was singularly insignificant. "They asked me if I had been aware of any voter fraud in the county and I said, 'No'," Hodges said. He added, "I told them elections in this county were very well done with the involvement of both political parties. There are no shenanigans." The OSCE representatives also visited the Democrat Headquarters.
Echoing both Abbott and Ingram regarding the sanctity of Texas polling places, Perez-Wright said, "(The representatives) were very nice, but I don't care who you are. Even my mother isn't going to be allowed to hang around a polling place when voting is going on. I think they chose Bandera because they thought we were a small town and might not realize what was going on, but they were wrong."
Poll watchers for candidates, political parties and political action groups must have certification to monitor polling places for a limited time, she said. "Even inspectors from the State of Texas have something in hand, but these people had nothing."
Perez-Wright continued, "I've sent memos to all precinct judges and poll workers as well as to the sheriff and marshal's offices. If they come back, we'll be ready for them."
Texas authorities have threatened to arrest international election observers, prompting a furious response from the Organization for Security and Co-operation in Europe (OSCE).

"The threat of criminal sanctions against [international] observers is unacceptable," Janez Lenarčič, the Director of the OSCE Office for Democratic Institutions and Human Rights (ODIHR), said in a statement. "The United States, like all countries in the OSCE, has an obligation to invite ODIHR observers to observe its elections."

Lawmakers from the group of 56 European and Central Asian nations have been observing U.S. elections since 2002, without incident. Their presence has become a flashpoint this year, however, as Republicans accuse Democrats of voter fraud while Democrats counter that GOP-inspired voter ID laws aim to disenfranchise minority voters.

Texas Attorney General Greg Abbott further fueled the controversy on Tuesday when he sent a letter to the OSCE warning the organization that its representatives "are not authorized by Texas law to enter a polling place" and that it "may be a criminal offense for OSCE's representatives to maintain a presence within 100 feet of a polling place's entrance."
Texas sparks international row with election observers – The Hill's Global Affairs.
UFO or Lens Flare in Google Street View? You Decide – ABC News. (Video at link)
Andrea Dove contacted ABC News affiliate KLTV in East Texas with an interesting tip. Dove was using Google Maps to get directions to visit her aunt in Jacksonville, Texas, when she spotted a UFO while using the Street View option.
Don't believe it? Try it yourself by simply searching Jacksonville, Texas, and panning upward toward the sky in Street View to spot the reddish UFO near the clouds — although no one in Jacksonville has ever reported seeing one.
If you're still looking for more evidence, try the same trick by searching for the Sky City Casino Hotel on 32 Indian Service Route 30, Acoma Pueblo, N.M. The same object appears in the sky hovering over the street.
What do these two sites have in common? A McDonald's.
Is it really the same UFO or simply a lens flare?
Anomaly TeleVision » Blog Archive » UFO Lens Flare in Google Street View – Jacksonville, Texas.
As always, pioneering cryptozoology research from the Texas Bigfoot Research Conservancy:
The Texas Bigfoot Research Conservancy (TBRC) has recently concluded a long-term continuous field research study called "Operation Persistence." The goal of the operation was to observe and document the local wood ape population. Spanning ninety days and involving more than thirty TBRC investigators, the operation took place in an area located in the Ouachita Mountains in the region near the Arkansas-Oklahoma border. Members of the TBRC have operated in this area for more than a decade, including during 2011's long-term research study, Operation Endurance.

Over the course of Persistence, investigators collected a large amount of digital and physical evidence. While the digital evidence (in the form of unattended trail-cam photography and audio recordings) is still being analyzed, several hairs collected near the group's research facility have been inspected microscopically. Following are our conclusions regarding each of the six samples recovered, including associated photomicrographs.
I had the pleasure of meeting and recording Texas Senator John Cornyn reading a famous letter from Republic of Texas President Sam Houston to former U.S. President Andrew Jackson.
Voices of Texas History

1844 draft letter from Sam Houston to Andrew Jackson regarding the annexation of Texas by the United States.

Read by United States Senator
John Cornyn on July 27th, 2012

About the document

Sen. Cornyn reads sections of a draft letter dated February 16, 1844, from Republic of Texas President Sam Houston to former U.S. President Andrew Jackson emphasizing his support of Texas' annexation by the United States. (Draft letter: Item 3362, Andrew Jackson Houston collection. Archives and Information Services Division, Texas State Library and Archives Commission). The excerpts read by Senator Cornyn highlight the most compelling points in Houston's draft letter (the final draft was ultimately sent to Jackson).
Voices of Texas History – Texas State Library and Archives Commission.
My friend Russell Dowden, publisher of WEIRD Magazine for the past ten years, is now the General Manager of Alex Jones' new InfoWars news-magazine published from right here in Austin, Texas.
issuu.com/infowars/docs/infowars
This is an article from the September issue of the all-new Infowars magazine, free hard copies of which will be available throughout Austin. To get a free digital version of the magazine, sign up to Infowars Insider by clicking here.

If you are picking up this publication for the first time and wondering what we are all about, the answer is freedom. We stand behind the Constitution, the Bill of Rights and the concept of 1776 expanding worldwide – the idea of liberty all over the planet.

We are a firewall standing between liberty and the tyranny of a corporatist and monopolist system that is diabolically opposed to freedom and the free market, especially when it comes to media and the unrestricted flow of information.

We oppose wireless NSA wiretapping and the secret arrest of Americans under the NDAA. We oppose endless and criminal proxy wars carried out in our names. We oppose the persecution of people for religious or cultural reasons.

We are not left or right. We are constitutionalists. Because Obama is currently the titular head of the global empire and crime syndicate, a lot of this publication will be about his actions. In the past, we were critical of Bush. We will also examine Romney and others who may replace Obama and his administration.

Infowars.com and Prison Planet.com, our flagship websites, are rated by Alexa.com and similar metrics that gauge web traffic as the top alternative media site in the world. Infowars.com receives about twice the traffic of MSNBC.com.

News via print is dying as a result of a perfect storm. People are abandoning corporate newspapers and print publications and instead are flocking to the web as so-called mainstream newspapers just regurgitate corporate and government talking points. Mainstream news is also dying online – this is why we are able to dominate them with film, videos, and our news websites.

Print is impervious to a government kill switch and any other electronic scheme designed to shut down areas of the web the government wants censored. Digital and networked technology make it easy for corporate control freaks to track down dissidents, delete their words and even kill audio files of their voices, as they have done with my voice on YouTube. Corporations have gone so far as to claim copyright on voices, including that of Optimus Prime, a character from the Transformers franchise. That's right – You Tube is now adhering to third party claims of ownership – many of them erroneous – to people's own voices, and using this as a pretext to delete content – representing a new frontier of censorship via copyright.

Automated software bots are now being used to preemptively censor content with no due process whatsoever.

Kindle recently demonstrated how it is possible to remove content when it invaded privately owned devices without permission or warning and deleted ebooks. As Apple co-founder Steve Wozniak recently warned, the very idea of cloud computing poses a threat to the existence of digital material and the idea of individual ownership. The director of the CIA has admitted that the Internet is a surveillance tool that even gives "smart" appliances the ability to spy on you.

This censorship war amounts to nothing less than electronic book burning, where words and ideas can be digitally erased from the "cloud". The automated bots will now do the work of the firemen in Ray Bradbury's dystopian classic Fahrenheit 451.

Print makes this sort of censorship virtually impossible. It allows you to hold a physical copy in your hand – a physical copy that you can now pick up in your city or order online in bulk at cost price at infowarsshop.com and give to friends and family.

We're going back to the very roots of free speech – the Gutenberg printing press – while also continuing to expand in an increasingly restrictive Internet space, where cybersecurity legislation is little different from what the state is doing to the freedom of expression in Russia. More and more, the web is darkening as our authoritarian government expands its reach.

While we continue to fight for Internet and cyber freedom, it is important to embrace print at a time when everyone is abandoning it. Print media is important because it is not dependent on a device that can be controlled, disabled or turned off by a government kill switch or at the whim of a corporation. All you need are your eyes; print gives the power to the reader.

Over the next year, we will transition from a monthly to a weekly publication. We will also launch a franchising of the publication within the next few months. This will allow others that share a passionate love of liberty to add their local stories to our national and international content. Franchising will also allow you to share ad space. In addition, we will offer a digital copy of the publication which you can receive for FREE. All you have to do is sign up for our newsletter at infowars.com/newsletter.

Ultimately, the success of this new venture is up to you and other liberty lovers eager to see the message of resistance delivered across all media. Hopefully we will serve as an example that will help lead print back from oblivion and make it a truly useful activist tool in the fight against global control freaks determined to dominate all media and to wipe out the message of resistance as they move to consolidate power and dominate the world.

Editor's note: You can get copies of Infowars Magazine in bulk for the low price of just $9.95 for 10 copies. Packed with fantastic articles, this represents a powerful activist tool. Click here to get your copies today!

Print 2.0: Answer to the Internet Kill Switch Alex Jones Infowars: Theres a war on for your mind!.