UFOs? Unidentified Floating Objects? "Angel Hair" anyone?!?!? Video at the link:
Thousands of North Texans are asking, "What are those long, silky strings floating in the air?"  Turns out they're the webs of spiders in their annual migration to better hunting grounds, and surprising a lot of people.

"I thought it was weird; I'd never seen it before," said Myrna Olivas, who first noticed it driving in her car; then later as she dropped her son off at school.  "It just landed on my head and it left again," she said adding, "It's just a big stripe of spider web.  I couldn't recognize it until I got it closer to me."

The natural phenomenon was first noticed early Wednesday morning.

They're called "ballooning" or "floating" webs made by young, migrating spiders.  "There's some that produce a ball like a balloon, and there's some they call tent spiders because they create almost like a triangle," according to Texas A&M Agrilife horticulturist Patrick Dickinson.

They were strung across North Texas in trees or on lamp posts, even on a surveillance camera atop Dallas City Hall.  Car dealers washed them off their prize offerings.

Not everyone thought them merely a weird nuisance, according to Dickinson.  "Some people did not know what it was and were scared to go outside of their homes.  Other people thought when they saw them in the trees like you're seeing here that there was something wrong with their trees."
Read the rest here: 
See also … Spiders leave webs around Dallas
Three of the top cases are from … TEXAS!
The Science Review Board from the Mutual UFO Network (MUFON) recently released their top 10 cases from 2012. Here's a quick summary of these cases:

…

Case 36765: 3 a.m., March 25, 2012; at a correctional facility near Cleburne, Texas

Two officers on duty at a correctional facility saw a triangular object to their south. It was a clear night and the moon was not out. The object flew over them very slowly, appearing to be going only about 5 mph.

…

Case 41918: 5:20 a.m., July 14, 2012; Highway 36 near the town of Milano, Texas, and a repeat event six months later near the same location

The two witnesses saw a pentagon-shaped, black object hovering over the highway ahead of them. At each apex of the pentagon were lights and a more intense light in the middle of the object. The lights at the corners were white and pulsated about once per second. As the witnesses drove under the object they could hear no sound coming from the craft above them.

Cases 37562, 37585 and 36704, April 17-19, 2012; Three separate triangle reports in the same region of Oklahoma and Texas

All three witnesses described a silent, triangular object that displayed white lights on the apex of the triangle and a ruby-colored light in the center of the triangle. There was not sufficient information in the movement of the object to establish that it was not potentially a drone or experimental aircraft.

…

More information about these 10 accounts can be reviewed here.
Top 10 UFO Cases Includes Close Encounters From Seven States | Roger Marsh.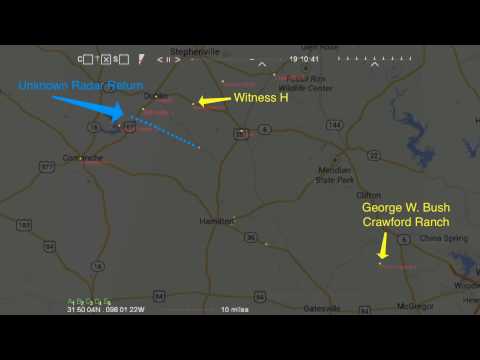 2008 Stephenville Texas UFO Radar Report

Video of radar data during the January 8, 2008, UFO incident in the Stephenville, Texas, area. This video superimposes a map under the radar animation and provides annotations to show witness locations and the unknown tracks on radar.

The radar analysis and information shown is from "Stephenville Lights: A Comprehensive Radar and Witness Report Study" by Glen Schulze and Robert Powell. Please refer to the report for details of the witness reports and analysis:
www.ufocasebook.com/pdf/mufons…

Radar animation provided by Rob Jeffs and RADARplot as seen here:
www.youtube.com/watch?v=FwsbSx…

Law enforcement witness illustrations courtesy of StephenvilleLights.com.

For more information, visit our Stephenville Lights Information Page:
www.SightingsReport.com/Steph…
Hat tip to Whitley Strieber's UNKNOWN COUNTRY and before it, Roger Marsh's Examiner blog:
Huge triangel low over Houston
Story Source:
This very typical witness account of an enormous triangle reminds us that the UFO phenomenon is constant and ongoing. There is no reason to doubt the witness. Unfortunately, there were no images made, and as the sighting took place at around three in the morning, there is also no corroboration.
Did you see it, or something else you can't explain? Let us know, we're interested! Click here to file a report.
Out There | Huge triangel low over Houston | unknowncountry.
Miles, 41, of San Antonio, said he recently flew to Port Aransas to spend the day walking the beach.

"My passenger took it on Sunday as we made our final approach," he said.

But they never actually saw the object from the cockpit of their Cessna. His passenger was simply snapping photos of their landing and they never noticed the strange streak until they were flipping through the photos at a nearby restaurant.

The object only appeared in one of the photos.
Is it a UFO? Pilot baffled by object in sky over Port Aransas | kens5.com San Antonio.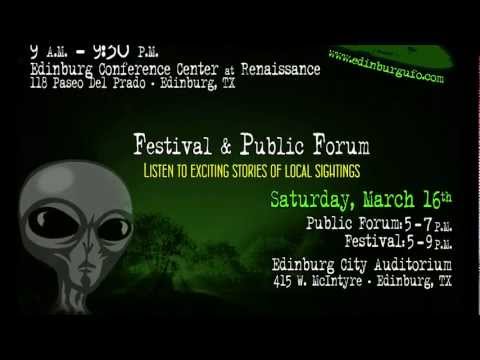 Out of This World Conference and Festival in Edinburg, Texas – Friday, March 15, 2013
March 15, 2013
www.EdinburgUFO.com
www.RoswellBooks.com/edinburg/
… AND …
Roswell UFO Festival
Tentatively set for July 5-7, 2013
www.UfoFestivalRoswell.com
www.RoswellBooks.com/festival/
Events From Last Year:
Border Zone International UFO Festival
October 19 & 20, 2012
www.RoswellBooks.com/zone/
Laredo UFO Conference
2012 – 2nd Annual, Saturday, November 10, 2012
Texas A & M International University
www.RoswellBooks.com/laredo/
UFO or Lens Flare in Google Street View? You Decide – ABC News. (Video at link)
Andrea Dove contacted ABC News affiliate KLTV in East Texas with an interesting tip. Dove was using Google Maps to get directions to visit her aunt in Jacksonville, Texas, when she spotted a UFO while using the Street View option.
Don't believe it? Try it yourself by simply searching Jacksonville, Texas, and panning upward toward the sky in Street View to spot the reddish UFO near the clouds — although no one in Jacksonville has ever reported seeing one.
If you're still looking for more evidence, try the same trick by searching for the Sky City Casino Hotel on 32 Indian Service Route 30, Acoma Pueblo, N.M. The same object appears in the sky hovering over the street.
What do these two sites have in common? A McDonald's.
Is it really the same UFO or simply a lens flare?
Anomaly TeleVision » Blog Archive » UFO Lens Flare in Google Street View – Jacksonville, Texas.
A new "reality" tv show from National Geographic launches this Friday, June 29th and involves some Texas sightings.
Chasing UFOs: Two Hour Premiere

FRIDAY at 9P and 10P


A team of trained investigators sets out to uncover the truth about UFOs. But they're not just looking for more stories on extraterrestrial activity – they want answers. Risking it all, this team of scientists and UFO researchers investigate and dissect some of the most mysterious sightings on the planet to unearth stunning new evidence. The data they collect on these adventures paints an entirely new picture of what we know about these strange lights in the sky.

SOURCE: National Geographic newsletter
The 2012 Women's Symposium on UFOs in Glen Rose , Texas

An invitation to all people who want to have a serious dialogue about UfOs to attend the 2012 Women's Symposium on UFOS.

The event is for men and women.

Here is the Schedule

The Women's UFO Symposium brings together leading women in UFO research, documentation and related information.

Early-bird Registration Extended to April 15!

Symposium Admission Includes:

• Pre-conference screening of The Hidden Hand with producer/director James Carman on Friday, May 18
• Entry to all speaker presentations and panels on Saturday, May 19 and Sunday, May 20
• Entry to the Pre-conference "Ladies in Red" Cocktail Party on Friday evening, May 18
• Entry to the Marketplace on Saturday, May 19 and Sunday, May 20
• "Dutch treat" Texas Bar-B-Que Saturday evening, May 19
• Skywatch on the Odom Ranch, Saturday evening, May 19

Register Now Online!

Pricing:
REGULAR • $90 per person for registration received April 16-May 19

Limited spots available. Register now using your credit card or PayPal account:

Friday, May 18, 2012

6:00 pm: "Ladies in Red" Cocktail party with cash bar, Holiday Inn Express

7:00 – 9:30 pm: Screening of "The Hidden Hand" followed by Q&A with producer/director James Carman

Saturday, May 19, 2012 – UFO Sightings Around the World

8:00 – 9:00 am: Registration

9:00 – 10:00 am: Opening remarks – Paola Harris and Tracey Austin Peters, followed by Awards Ceremony

10:00 – 11:00 am:  "A Call to Action: Ban Weapons in Space" with Carol Sue Rosin

11:00 am – 12:00 noon: "The Phoenix Lights Incident" with Dr. Lynne Kitei

Lunch 12:30 to 1:30 pm

1:30 – 2:30 pm: "Kenneth Arnold - The Man Who Started It All" with Paola Harris

2:30 – 3:30 pm: "The Road to Disclosure" with Paola Harris

3:30 – 4:30 pm:  Stephenville "The Beginning" with Angelia Joiner

4:30 – 5:30 pm: Stephenville panel – Constable Lee Roy Gaitan, Steve Allen, Ricky Sorrells and Robert Powell, moderated by Angelia Joiner

5:30 – 7:30 pm: Texas Bar-B-Que at Hammond's BBQ (dutch treat)

7:30 – 9:00 pm: Skywatch on the Odom Ranch

Sunday, May 20, 2012 - Cosmic Messages: Researching the Contact Scenario

9:30 – 10:30 am: "Let's Talk Paranormal" with Tracie Austin Peters

10:30 – 11:30 am: Interview with Karen Gresham Nickell by Paola Harris

11:30 am – 12:30 pm:  "From My Side of the Bed – A Spouse Speaks About Alien Contact" with Lisa Romanek

12:30 pm: Closing Ceremonies
In the William Laxton Incident: Distortion In Images, the Caravaca Files applies the Theory of Distortion to a 1966 sighting that had even the USAF puzzled. William Laxton was driving to his job at Sheppard Air Force base in Texas early one morning when he was stopped by a UFO parked on the road, along with a uniformed "man" in a hat and uniform doing repairs on the craft. With the Theory of Distortion, the Caravaca Files point out that with the witness's airbase experience, the man framed the sighting within in the context of a military aircraft, in other words seeing what his mind chose to show him.
Hat tip to www.Anomalist.com